More info on former Mufti of Jerusalem, Hajj Amin el-Hussieni, can be found here as well: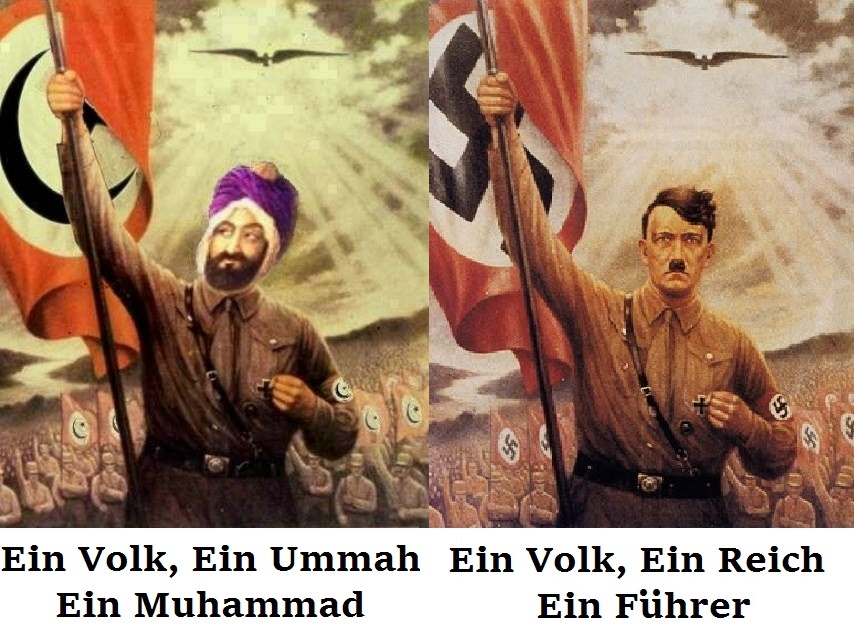 NOTE: This was first published at Israel National News and republished here with the author's consent.
THE DEBATE ON MEIN KAMPF
Manfred Gerstenfeld
Mein Kampf has been much talked about lately, in view of the expiry of its copyright. Despite the fact that there has been some discussion, also sparked by the publication of an annotated scholarly edition by Germany's Institute for Contemporary History (IFZ), there is hardly anything of practical value to debate about.
The State of Bavaria has held the rights to Mein Kampf from the end of World War II. Since that time, it has refused to authorize reprints as the book incites racial hatred. Nevertheless over the past decades a large number of versions of Mein Kampf have been published unhindered in many languages. It is widely read in Arabic countries. Copies have even been found to be available in London in neighborhoods with large Arab populations.1
Hitler's book is also widely available in India. Curiosity appears to be the main reason, rather than any more sinister motivation, especially as to why the book had such an impact in its time.2 By contrast, several years ago, Rifat Bali, an expert on Turkish antisemitism wrote that the Turkish translation of Mein Kampf had become a bestseller in the country and could be purchased in some of the largest supermarket chains and bookstores.3 Here the anti-Semitic motivation seems self-evident.
It was also reported that it was a bestseller in the Palestinian territories. This should not come as a surprise. The main pre-war leader of the Palestinian Arabs was the Mufti of Jerusalem, Mohammed Amin Al-Husseini. He saw major parallels between Islam and Nazism. He mentioned these during the Second World War in a lecture to the members of the SS division of Bosnian Muslims which he had helped establish.4
Husseini listed the following points in common:
monotheism, unity of leadership, and the Führer principle
notions of obedience and discipline
fighting for honor and fighting to the death in battle
attitude toward community: common interest precedes personal interest
valuing motherhood and the prohibition of abortion
attitude toward Jews – Islam and National Socialism are close to each other in the battle against Judaism
glorification of labor and creation –Islam protects and respects labor in every way5
Against this background and in view of the widespread anti-Semitism in the hatred-permeated Arab world, Mein Kampf serves as a tool for anti-Semitic incitement in those countries and will continue to do so.
One anti-Semitic website lists where one can download Hitler's book for free on the internet in various European languages. We should have no illusions regarding Europeans' rising interest in Mein Kampf. In today's Europe where anti-Semitism is on the increase, most of those interested in reading Mein Kampf are probably not motivated by curiosity, but rather seeking additional material for fomenting hatred of the Jews and classic anti-Semitism.