Dr.Gerstenfeld's writes about Bernie Sanders being a strong promoter of antisemites. The article was first published at INN and republished here with the author's consent.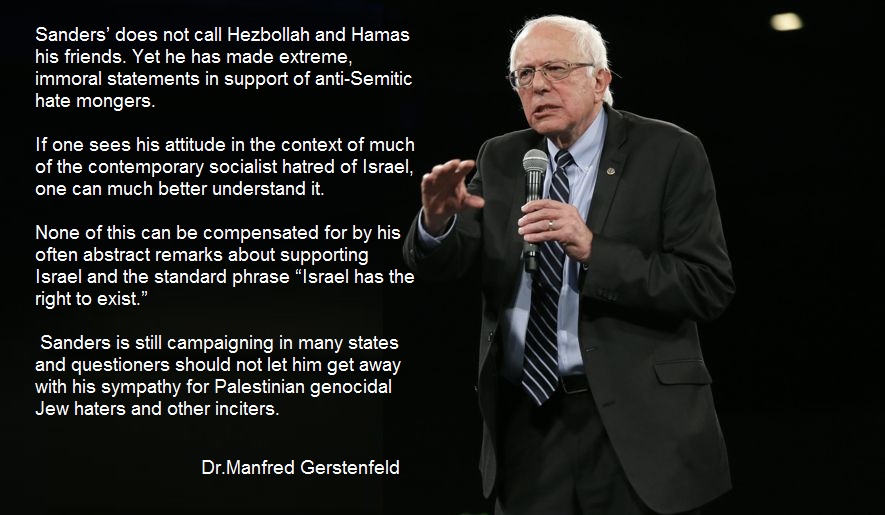 Bernie Sanders, a strong Promoter of extreme anti-Semites
Manfred Gerstenfeld
In 2014 the Anti-Defamation League undertook a study of anti-Semitism in a hundred states and entities. The leading ten, each with at least 80% of the population holding anti-Semitic views, all come from the Arab and Muslim world. The West Bank and Gaza, headed the list with 93%.1 Yet US presidential candidate Bernie Sanders has gone on record saying that positive relations between the United States and Israel hinge on Israel improving its relationship with the Palestinians.2
Sanders also stated that the United States should not limit its friendship to Israel alone, but should also be friendly toward the Palestinians.3 In other words, if he is elected his country will seek friendship with the most anti-Semitic entity in the world. He furthermore stated that Palestinians need to be treated with "dignity and respect."4 Perhaps interviewers should ask him why genocide promoters and inciters to murder deserve to be treated that way. An American Jewish leader once said privately to me "Sanders doesn't have a gram of anti-Semitism in his body." That may be true, yet he is a strong promoter of extreme anti-Semites.
Much attention has been devoted to Sanders' being Jewish. This while avoiding any mention of his wish for friendly relations between the US and an entity whose majority party, Hamas, has publicly declared its genocidal intentions against all Jews. Perhaps Sanders should first ask them whether, in view of his desire for this friendship, Hamas will agree not to murder him if it succeeds.
Another much discussed subject is Sanders' inflation of the number of Palestinian civilian dead in Israel's 2014 Protective Edge campaign against Hamas in Gaza. He mentioned "10,000 innocents" when in reality it was a fraction of this number.5 But this remains a side issue in comparison with his affinity for extreme anti-Jewish hate mongers. Sanders calls this a "balanced position."
What is far more important to understand about Sanders is his self-definition as a socialist. Americans, including American Jews, are not very familiar with what many socialists stand for nowadays. For a better understanding of contemporary socialists, one has to look at Europe.
Sanders is a great admirer of the Nordic countries.6 It is there that anti-Israelism, the newest form of anti-Semitism, has been frequently promoted by socialists. Sweden is the most populated Scandinavian state. Its best known social democratic Prime Minister Olof Palme was one of the first mainstream European leaders to call Israel a Nazi state.7 Under its social democratic mayor Ilmar Reepalu, the third largest Swedish town Malmö became Europe's capital of anti-Semitism.8 Not surprisingly in Sweden more Jews than anywhere else in Europe conceal their identity in public.9