---
These Leftist activists are an existential threat not only to Israel, but to humanity in general… 
Anna Kontula, a Vasemmisto (Left Alliance) communist has a history of lawbreaking, in 2013 she hid illegal aliens from immigration officials.
– I think I have done the right thing, even though in practice it is against the law or at on th eedges of it. If Finland's immigration policy harasses people in situations where the life or safety of another is seriously threatened, then the universal love of one's neighbor will override Finnish law.
She unilaterally interprets the law and decides which one she chooses to uphold or flaunt, and has not been made to suffer the consequences of her actions. So in Israel, she continues on with the same.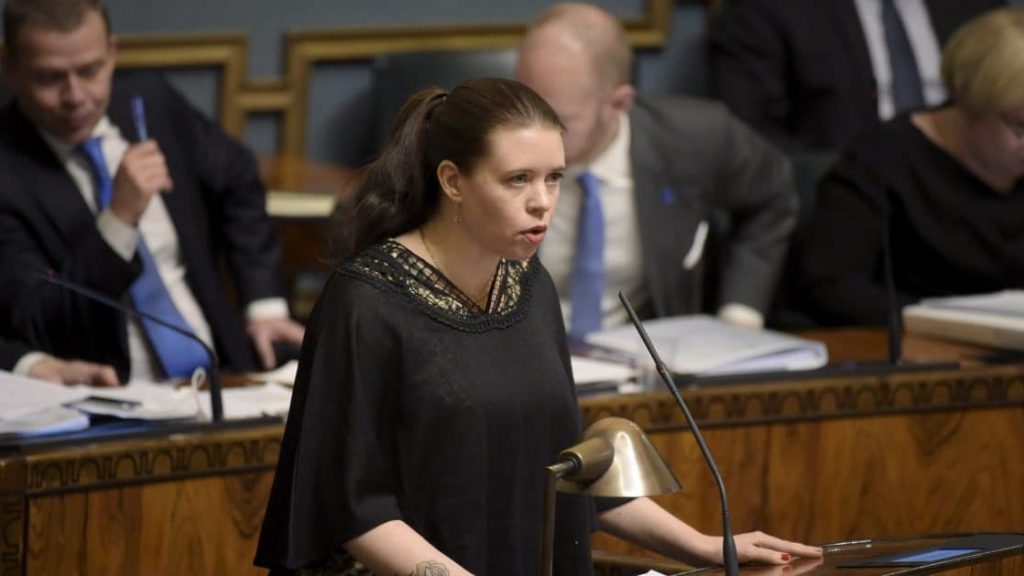 MP Anna Kontula tried to cut a hole in the barbed wire – that's how events in Israel went
Member of Parliament Anna Kontula urges Finland to stop arms dealings with Israel.
Anna Kontula, a LEFT-WING MP, did not even reach her destination in Israel when police escorted her entourage on Monday.Kontula was in Israel to attend a protest by an international activist group to draw attention to the blockade in Gaza, a Tel Aviv the MP said.
Israel and Egypt have been blocking Gaza since 2007. The area has previously been surrounded by barbed wire, but now Israel is building a wall instead.
– When the wall is complete, there will be an area the size of a Finnish municipality with two million people, Kontula says.
The area has been compared to an open prison, and Kontula considers the comparison as relevant. For example, the former UN High Commissioner for Human Rights has described the blockade of Gaza as contrary to international law, which has led to the collapse of the Gaza economy and a humanitarian crisis.
The purpose of the activist group was to challenge the blockade by cutting a hole in the barbed wire. However, the police stopped Kontula's entourage in a roadblock and the group was taken to the police station.
There they were fingerprinted and photographed and questioned. According to Kontula, the police were friendly most of the time but did not hurry. Time in the station eventually took ten hours.
According to Kontula, police operations accelerated considerably when she told them she was a Member of Parliament.KONTULA was reportedly asked to sign a statement in which she would accept that she was suspected of interfering with the investigation and endangering public security. The alternative would have been imprisonment.
Most of the text was in Hebrew, the rest in English.- When I refused to sign, I was pressured. More than it would have been appropriate.
According to Kontula, she was told many times that signing would be in her best interest. When she refused to sign, the tone turned angry and she was yelled at.
Eventually, Kontula was allowed to leave.- I don't know if it wasn't because they didn't want a bigger fuss or because they were afraid of the paperwork.
BY participating in the DEMONSTRATION , Kontula also wanted to draw attention to Finnish arms purchases from Israel. She said the arms trade with Israel should be stopped, because through the arms trade Finland supports actors who will benefit from the continued occupation by Israel and the military.- Through arms purchases, Finnish taxpayers' money is flowing to support the occupation, Kontula says.
According to the MP, by purchasing weapon systems from Israel, Finland will also benefit from the development of weapon technology in the Occupied Territories.
According to international commitments and the government's program, Finland does not export military material to countries waging war or violating human rights. They say nothing about arms imports.
As a member of the government, would Kontula also have other means of influencing arms sales?
Kontula confirms that she has sought to influence the arms trade with Israel also as a Member of Parliament, and that she has written numerous texts, initiatives, statements and questions on the subject over the years.
Li Andersson, president of the LEFT ALLIANCE , commented on Kontula's activities on Twitter, writing that peaceful civic action for human rights is in line with party values."The arms trade with Israel is something that we have been criticizing for a long time and that we are trying to change within the framework of intergovernmental cooperation," Andersson writes.
Paavo Arhinmäki , a fellow party member, ex-chairman and deputy member of the Constitutional Committee , said he was at the committee meeting to replace Kontula, who is a full member. The committee has convened to discuss the work of Foreign Minister Pekka Haavisto (Green) on the repatriation of Finns in al-Hol.
– On the face of it, non-violent civil activism for human rights is in line with party principles. Criticism of the arms trade with Israel is justified. As a party, we try to influence it. Finland should not buy or sell weapons to Israel, Arhinmäki tweeted.
Foreign Minister Pekka Haavisto (Green), on the other hand, says that parliamentarians and their duties should be accompanied by immunity and respect for their duties.
– Let's find out what has happened and how we can help, Haavisto told STT in Parliament.
According to Haavisto, MPs are free to express their opinions.- But then the government ultimately decides on these policies. At the moment, the solutions that have been made, have been made, he said.