---
SDP parliament group lies big: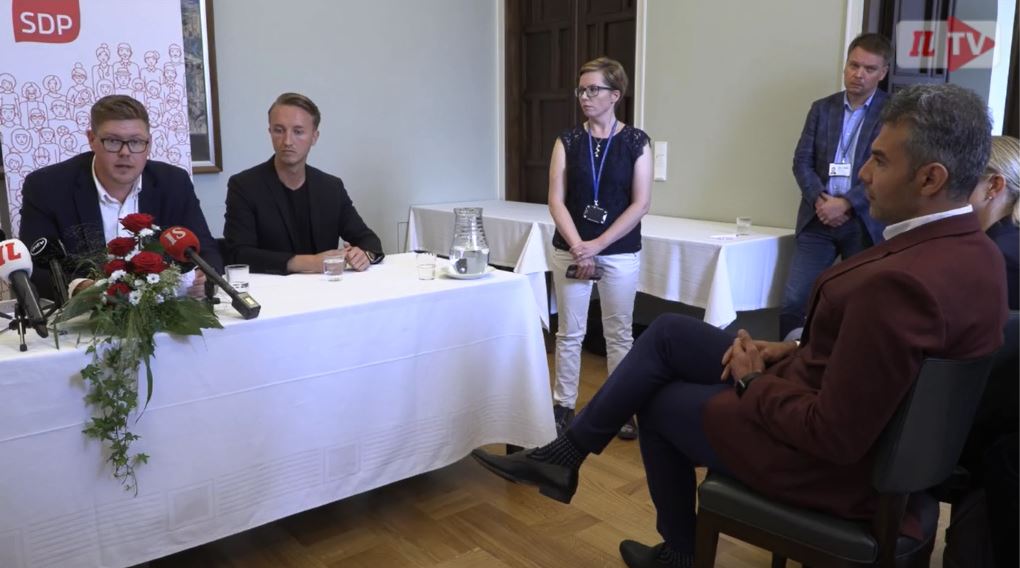 Tytti Tuppurainen confirms that Hussein al-Taee continues as a member of the group and has been given "exceptional guidance" to al-Taee. "These writings have occurred before societal activity."
Al-Taee:"
Many colleagues supported and hugged me. I was moved by this. The people were so empathic, which added to me the amount of pain. Does not help other than to redeem the votes of many thousands of people ".
— It's not true.
— @AnttiLindtman  says that "al-Taee has clearly distanced himself from his words". Except only after lying, saying he was being smeared and preventing the truth from coming out. 
— @AnttiLindtman: "I think it is important that things are told as they are" – although Hussein al-Taee did not. He lied at first and only regretted being caught.
— Some of the comments have been made during work for CMI. It is counted as societal work.
— @AnttiLindtman : Provide "clear instructions" – What are these guidelines? Is there any reprimand? "The group gave instructions on how to act as a Member of Parliament and he accepted the instructions humbly."
— "This has not gone without penalties, the group has given instructions on how to proceed." "I want to emphasize that Hussein al-Taee has made a very clear distinction between these ideas." Which is not true. This "stern difference" was made by force and only after he was caught.
The live feed was here (Finnish)
SDP's summer meeting: Hussein al-Taee allowed to continue in parliamentary group – received instructions on how to behave
Today, the Socialist Parliamentary Group has dealt with the case of MP Hussein al-Tae (sd). The group decided that he could continue as a member of the group.
– Al-Taee made a thorough account of his speeches in the parliamentary group, said Antti Lindtman (sd) , chairman of the parliamentary group, at a news conference.
According to Lindtman, the group attached great importance to al-Taee's clear resignation from his old writings and apologizing for them.
– The group's discussion stated that the writings preceded his political activities. And they have not continued since he joined the Socialist Group.
The group gave instructions on what the MP should do. The group requires al-Taee to follow the guidelines.
"He promised to act on that," Lindtman said.
Related:
//tundratabloids.com/2019/04/26/finland-former-cmi-advisor-now-sdp-mp-elect-hussein-al-taee-says-he-might-of-written-those-posts-disparaging-jews-kurds-sunnis-and-gays-afterall/
//tundratabloids.com/2019/04/29/finnish-media-hussein-al-taee-removed-from-cmis-website-after-being-contacted-by-jpost-journalist-benjamin-weinthal-preiviously-stating-he-enjoyed-their-confidence/
//tundratabloids.com/2019/04/29/finland-media-crisis-management-yle-rushes-to-hussein-al-taees-rescue-interviewing-him-tonight-on-his-jew-gay-hate-filled-facebook-posts-he-once-denied/
//tundratabloids.com/2019/04/30/finland-social-democrats-sdp-claims-authenticity-of-hussein-al-taees-social-media-posts-news-to-us/
//tundratabloids.com/2019/05/02/finland-social-democrats-sdp-readies-its-hand-slap-to-hussein-al-taee-not-mention-that-not-even-cmi-wants-him-anymore/
//tundratabloids.com/2019/05/02/finland-sick-leave-for-hussein-al-taee-hes-had-a-rough-couple-of-weeks/
//tundratabloids.com/2019/05/03/finland-police-now-asked-to-investigate-hussein-al-taees-inflammatory-facebook-comments/
//tundratabloids.com/2019/05/03/finland-sdps-antisemite-mp-hussein-al-taee-still-in-the-news-police-investigate-after-jpost-expose/
//tundratabloids.com/2019/05/09/finland-ex-wife-of-sdps-pro-iran-mp-hussein-al-taee-feared-honor-related-violence-fled-to-shelter-to-escape-him-and-his-relatives/
//tundratabloids.com/2019/05/13/finland-usa-hussein-al-taee-story-makes-it-across-the-pond-into-the-us-media/
//tundratabloids.com/2019/05/30/finland-sdp-leadership-informs-that-their-newly-minted-pro-iranian-antisemite-hussein-al-taee-to-remain-on-sick-leave-till-end-of-june/
//tundratabloids.com/2019/06/27/finland-antisemitic-sdp-mp-hussein-al-taee-has-sick-leave-extended-till-late-july/
//tundratabloids.com/2019/07/19/finland-anti-jewish-mp-hussein-al-taee-now-back-on-the-work-roster-for-the-sdp-marxists/
//tundratabloids.com/2019/07/23/finland-jew-hating-sdp-mp-hussein-al-taee-has-new-skeleton-in-closet-lied-about-economic-degree-in-poland/
//tundratabloids.com/2019/07/29/finland-sdps-jew-hating-mp-hussein-al-taee-goes-public-first-time-since-imposed-sick-leave-says-more-skeletons-may-be-found-in-closet/
//tundratabloids.com/2019/08/15/finland-investigation-of-three-mps-for-hate-speech-not-wanting-hussein-al-taee-to-stand-alone/