This was first published, without footnotes, in the Jerusalem Post, and reposted here with the author's consent.
HOW ANTISEMITISM HAS CHANGED SINCE THE SHOAH
Manfred Gerstenfeld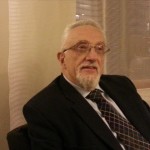 The upcoming Yom HaShoah is an appropriate occasion to review the many ways in which anti-Semitism has changed since the Holocaust. Identifying the current forms of anti-Semitism is all the more important as they are in continuation of the extreme hatred of Jews in much of Europe which provided the infrastructure for the genocide of six million Jews.
Such an analysis is a complex matter. The basic motifs of anti-Semitism have remained unchanged for almost two millennia, yet their manifestations have mutated and continue to do so. The outrageous idea that the Jews are absolute evil was introduced by Christians many centuries ago and holds sway in some circles until today. This demonization is based on the false blame attributed to all Jews, past, present and future, for the death of Jesus.
Nazism, the most extreme movement of ethnic/national anti-Semitism, transformed this core motif of Jews being absolute evil into a pseudo-scientific classification of Jews as subhuman. Currently the motif of absolute evil has been assigned to Nazism. This has mutated into perceptions of Israel as a Nazi state. Polls have shown that beliefs such as "Israel conducts a war of extermination against the Palestinians" have the support of at least 40% of the European population.1
Similar mutations have occurred concerning major sub-motifs. "Jewish conspiracies" have morphed into "Zionist conspiracies."2 The blood libel, an invented medieval defamation accusing Jews of using the blood of Christian children to bake matzot, has also mutated within the context of anti-Israelism. Several years ago the largest Swedish paper, the social democrat Aftonbladet published an article stating that Israel kills Palestinians in order to harvest their organs for Jews.3
Besides mutations in ancient hate motifs, there have been significant other innovations in post-Holocaust anti-Semitism. The most obvious is the emergence of Holocaust denial. Its underlying concept is simple: the evil surviving Jews invented a genocide of 6 million of their co-religionists by the Germans and their allies. They thus assumed the false position of absolute victims and dishonestly accused many Europeans of a non-existent mass murder.
Apart from the Holocaust, a number of other factors caused changes which greatly influenced post-war anti-Semitism. One of these was the creation of the State of Israel, which permitted anti-Semites to aim their hatred at the Jewish state rather than to target the surviving Jews. The aforementioned labeling of Israel as a Nazi state is the clearest example of this.