And of course, the intelligent defender of Israel at the U.N. is correct.
The willingness to call a spade a spade, especially during a time of heightened distress and calamity, needs to be applauded, not mocked and condemned. This is what separates the true humanitarian of high moral standards from the outright frauds.
HUCKABEE IS RIGHT: IRAN NUCLEAR DEAL BRINGS US CLOSER TO CATASTROPHE OF HOLOCAUST PROPORTIONS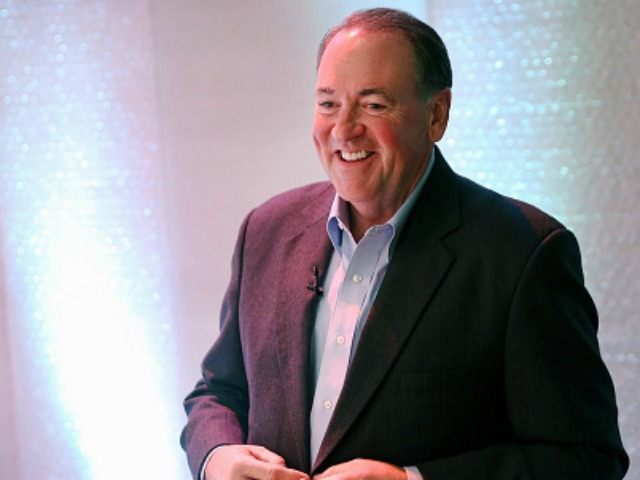 Scott Olson/Getty Images
When former Arkansas Governor Mike Huckabee raised the specter of the Holocaust in his evaluation of President Obama's Iran deal, he touched a raw nerve because Huckabee got it right: The Holocaust taught us that evil is not satiated after it consumes Jews. A deal that is catastrophic for Israel is also catastrophic for the United States.
The Governor reminded us that imagining the deal means losing some purportedly tolerable number of American servicemen to Iranian terror, somewhere "over there," is morally and empirically wrong.
Critics, however—starting with the President—jumped on the Governor's remarks – misread and misrepresented. What the Governor actually said to Breitbart News on July 25, 2015 was as follows: "This president's foreign policy is the most feckless in American history. It is so naive that he would trust the Iranians. By doing so, he will take the Israelis and march them to the door of the oven."
In response to the critics, Huckabee refused to be cowed. He subsequently told reporters and tweeted: "The last time the world did not take seriously threats against the Jewish people, just before World War II, this ended up in the murder of six million Jews… For decades, Iranian leaders have pledged to 'destroy,' 'annihilate,' and 'wipe Israel off the map' with a 'big Holocaust.'" "What's 'unacceptable' is a mushroom cloud over Israel," he added. "If we don't take seriously the threats of Iran, then God help us all."
President Obama, anxious to court American Jews to support the deal – and New York Senator Chuck Schumer in particular – responded with alacrity from a trip abroad in Ethiopia: "The particular comments of Mr. Huckabee are, I think, part of just a general pattern that we've seen that is — would be considered ridiculous if it weren't so sad."