---
Like I've been saying on Twitter, everything else has been tried with N-Korea, repeatedly, and to no avail. This hasn't been tried.
It would appear that Trumpäs retired basketball player friend had deeper insight than the best of analysts and expert wonks.
Trump just became first sitting POTUS to set foot in North Korea; meets Kim at DMZ
There will time and to spare to ponder what this means and where it may lead. For the time being, it is sufficient to record the moment.
On Friday, in a seemingly impromptu move, Trump tweeted an invitation to Kim Jong Un to meet him at the demilitarized zone (DMZ) during Trump's visit to South Korea on the way home from the G-20 summit in Japan.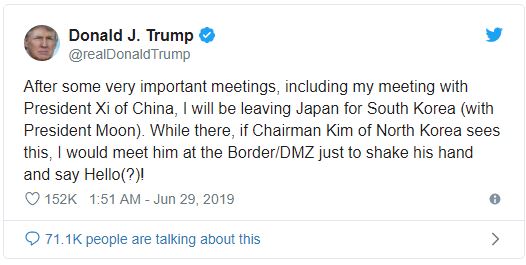 The administration disclosed nothing about plans for the meeting, and speculation ran the gamut from skeptical to overwrought.  Here at LU, we contented ourselves with suggesting the likelihood of the meeting coming off was slightly more than zero.
It did happen about 2:45 AM U.S. Eastern time, however (3:45 PM on the Korean Peninsula).  Trump and South Korean President Moon Jae In had concluded bilateral discussions in Seoul, and proceeded together to the DMZ, where Trump was to address U.S. troops.  South Korean media were reporting at that point that the Trump-Kim meeting was indeed scheduled, citing sources in the Moon government.
Kim Jong Un's security guards showed up, heralding Kim's arrival.  Then Kim himself showed, and he and Trump met at the demarcation line.  Trump stepped across it and the two shook hands for an extended photo op.