---
Enrichment which led to murder…
Finnish-born woman, 29, found murdered in her apartment on bed in Britain
Thursday 31.05.2018 at 13:54
47 year old British businessman being accused of homicide.
The tragic murder of a young Finnish woman has been reported in several British newspapers.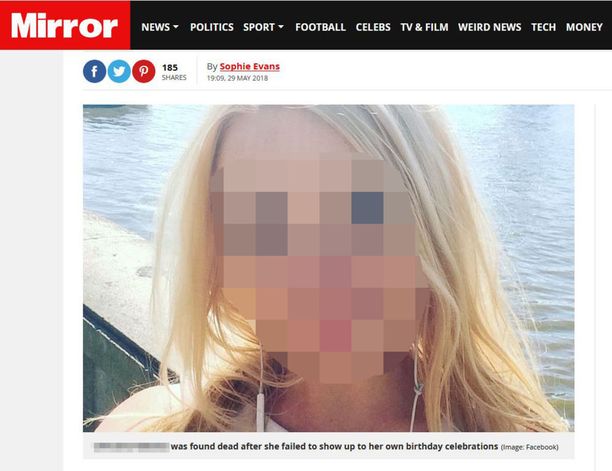 Screenshot of MIRROR
The businessman Zahid Naseem, 47, was in court in the south of England before hearing the accusations of murder of a 29-year-old woman. The victim is half Finnish because his mother is Finnish.
The woman was scheduled to celebrate her 29th birthday last Friday with her friends in London. The authorities found a woman from Crawley in the County of West Sussex in the middle of eleven o'clock that evening. She lay on her bed dead.
The victim's Finnish mother told the British media that the family members were to celebrate the birthday of the beloved daughter together last Sunday.
-We are heartbroken, and my family in Finland is shocked, they are quite crushed, mom told the Mirror magazine.
The victim's ties to Finland were clearly strong. For example, last December she changed her Facebook profile picture to Finland's 100-themed Independence day.
Parents identified
The woman who worked in IT celebrated 29 years on Friday. She had responded joyfully to her parents ' greeting message:
-Thank you so much. See you soon. I love you all.
She was due to travel to London and celebrate there with her birthday with her friends on the same evening. When she did not appear, her friends immediately alerted the police before they left to check the situation in the woman's apartment.
IL via The Mirror