---
Mosques and madrasas are not like other religious centers, they're staging grounds for eventual societal takeovers. It's not that I want it to be so, it's how Mohamed himself designed and used them and used as an example for future generations of Islamonazis.
Duterte Allows Bombing of Mosques for Final Battle Against Islamic State in Marawi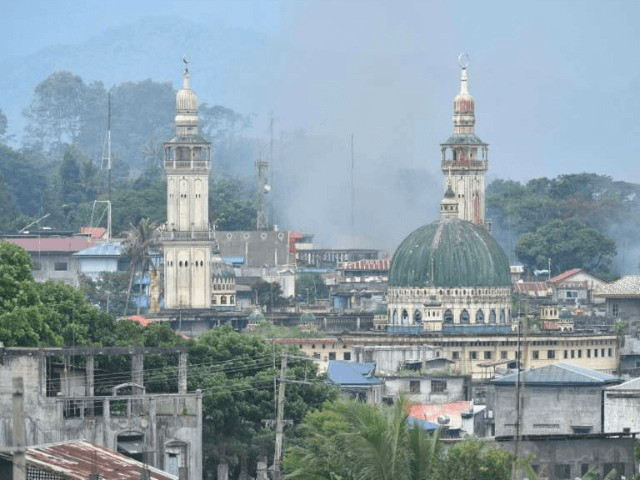 Philippines president Rodrigo Duterte told reporters Wednesday that, following the liberation of the Grand Mosque of Marawi, the nation's military could now bomb mosques, madrassas, and other hiding centers to finally eliminate the Islamic State presence in the city.
Marawi is the Philippines' only official Islamic city, as over 90 percent of the country identifies as Roman Catholic. The Maute Group and Abu Sayyaf, local Islamic State affiliates, attacked the city in May, taking hostages, killing civilians, and selling many as sex slaves. The Philippine military stated this week that it is organizing a final siege to remove all ISIS terrorists from the city.
Duterte told the military on Wednesday that "the option is already yours" to bomb any remaining ISIS strongholds "because we cannot have stalemate [sic] for over one year," according to regional website Rappler.
"It will generate more hatred, instead of healing, but it's taking so long, it's out of my hands already," he lamented. In announcing the tactical change, Duterte noted that the military had requested the ability to bomb mosque and other sensitive sites in the past, including locations where their intelligence indicated the Islamic State was keeping hostages. "That plan has been on deck for a long time—to bomb mosques to capture or kill the leaders there and in the process sacrifice the hostages," he explained, "But I have my limits."
Duterte added that he had sent negotiators to speak to the Maute terrorists in the hopes of forcing them to release their hostages.
The president also noted that the military had drafted a plan to bomb the city's Grand Mosque before they managed to liberate it using infantry.