---
When Mr.Stache speaks, smart people listen…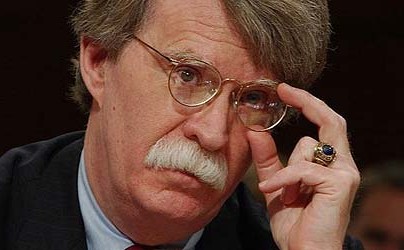 I would also add to his recommendations a comprehensive list of all the ports around the globe Iran takes it oil to be refined into gasoline, and enlist member states of the willing to impose an embargo on those ships till the Iranian regime fully divests itself from its nuclear weaponization program.
How to Get Out of the Iran Nuclear Deal
https://www.gatestoneinstitute.org/10910/exit-iran-nuclear-deal
Although candidate Donald Trump repeatedly criticized Barack Obama's Iran nuclear agreement, his administration has twice decided to remain in the deal. It so certified to Congress, most recently in July, as required by law. Before the second certification, Trump asked repeatedly for alternatives to acquiescing yet again in a policy he clearly abhorred. But no such options were forthcoming, despite "a sharp series of exchanges" between the president and his advisers, as the New York Times and similar press reports characterized it.
Many outside the administration wondered how this was possible: Was Trump in control, or were his advisers? Defining a compelling rationale to exit Obama's failed nuclear deal and elaborating a game plan to do so are quite easy. In fact, Steve Bannon asked me in late July to draw up just such a game plan for the president — the option he didn't have — which I did.
Here it is. It is only five pages long, but like instant coffee, it can be readily expanded to a comprehensive, hundred-page playbook if the administration were to decide to leave the Iran agreement. There is no need to wait for the next certification deadline in October. Trump can and should free America from this execrable deal at the earliest opportunity.
I offer the paper now as a public service, since staff changes at the White House have made presenting it to President Trump impossible. Although he was once kind enough to tell me "come in and see me any time," those days are now over.
If the president is never to see this option, so be it. But let it never be said that the option didn't exist.
Abrogating the Iran Deal: The Way Forward
I. Background
The Trump Administration is required to certify to Congress every 90 days that Iran is complying with the July 2015 nuclear deal (the Joint Comprehensive Plan of Action — JCPOA), and that this agreement is in the national-security interest of the United States.[1] While a comprehensive Iranian policy review is currently underway, America's Iran policy should not be frozen. The JCPOA is a threat to U.S. national-security interests, growing more serious by the day. If the President decides to abrogate the JCPOA, a comprehensive plan must be developed and executed to build domestic and international support for the new policy.
Under the Iran Nuclear Agreement Review Act of 2015, the President must certify every 90 days that:
(i) Iran is transparently, verifiably, and fully implementing the agreement, including all related technical or additional agreements;
(ii) Iran has not committed a material breach with respect to the agreement or, if Iran has committed a material breach, Iran has cured the material breach;
(iii) Iran has not taken any action, including covert activities, that could significantly advance its nuclear weapons program; and
(iv) Suspension of sanctions related to Iran pursuant to the agreement is –
(I) appropriate and proportionate to the specific and verifiable measures taken by Iran with respect to terminating its illicit nuclear program; and

(II) vital to the national-security interests of the United States.
U.S. leadership here is critical, especially through a diplomatic and public education effort to explain a decision not to certify and to abrogate the JCPOA. Like any global campaign, it must be persuasive, thorough, and accurate. Opponents, particularly those who participated in drafting and implementing the JCPOA, will argue strongly against such a decision, contending that it is reckless, ill-advised, and will have negative economic and security consequences.
Accordingly, we must explain the grave threat to the U.S. and our allies, particularly Israel. The JCPOA's vague and ambiguous wording; its manifest imbalance in Iran's direction; Iran's significant violations; and its continued, indeed, increasingly, unacceptable conduct at the strategic level internationally demonstrate convincingly that the JCPOA is not in the national-security interests of the United States. We can bolster the case for abrogation by providing new, declassified information on Iran's unacceptable behavior around the world.
But as with prior Presidential decisions, such as withdrawing from the 1972 ABM Treaty, a new "reality" will be created. We will need to assure the international community that the U.S. decision will in fact enhance international peace and security, unlike the JCPOA, the provisions of which shield Iran's ongoing efforts to develop deliverable nuclear weapons. The Administration should announce that it is abrogating the JCPOA due to significant Iranian violations, Iran's unacceptable international conduct more broadly, and because the JCPOA threatens American national-security interests.
The Administration's explanation in a "white paper" should stress the many dangerous concessions made to reach this deal, such as allowing Iran to continue to enrich uranium; allowing Iran to operate a heavy-water reactor; and allowing Iran to operate and develop advanced centrifuges while the JCPOA is in effect. Utterly inadequate verification and enforcement mechanisms and Iran's refusal to allow inspections of military sites also provide important reasons for the Administration's decision.
Even the previous Administration knew the JCPOA was so disadvantageous to the United States that it feared to submit the agreement for Senate ratification. Moreover, key American allies in the Middle East directly affected by this agreement, especially Israel and the Gulf states, did not have their legitimate interests adequately taken into account. The explanation must also demonstrate the linkage between Iran and North Korea.