---
He's right….
H/T: Sheik Yer'Mami (PBUH)
Interview Geert Wilders in Israel Hayom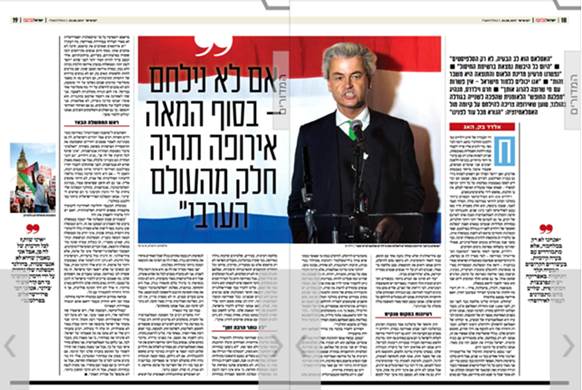 "Islam is the core of the problem, not only the radicals". "Today, the whole continent is on the hit list". Geert Wilders, leader of the party of Freedom, the second largest party of Holland, claims that Europe has to fight for its existence against the islamisation: "the worst is still to come"
Geert Wilders' office in the Dutch Parliament at The Hague looks like a bunker. In order to reach him, one has to pass several highly secured doors which can be accessed with special identified electronic keys. At the entrance there are 2 well trained armed cops and are licensed to open fire if necessary even in parliament. A camera is installed right next to them that record all movement all along the way to the office.
Wilders (53) is the most threatened politician in Holland and probably in whole of Europe. The Islamic terror, sweeping through Europe, has been a part of his life since he first started politics 15 years ago. His relentless way of voicing his defiance against the Islamisation has made him an enemy of a lot and also a representative of a significant and growing part of Holland's population. The party of freedom became the second largest party in parliament after the elections back in March. The other parties agreed in advance not to ever govern with him. However, without his party they have been unable to form a stable coalition. After 6 months of negotiations, there might be an agreement in the coming days.
Wilders that became a key actor in the "patriotic revolution" in Europe -alongside Marine le Pen in France, Heinz Christian Strache in Austria- recognised how the traditional parties have been neglecting the most urgent matters, in his view, threatening the existence of Europe and feels that time is running out and might be too late the day he becomes Prime Minister.
Manchester, London, Barcelona, paris- merely a part of terror attacks committed during the summer. Is Europe in a state of war?
Evidently it is. War has been declared a long time ago, 1400 years ago. In the past we succeeded to fight back. Unfortunately we have been experiencing in the past years numerous terror attacks. The root of the problem is the islamisation of the west, there is no possibility for Islam to integrate and the goal has always been to dominate. The only goal is to attack our way of life and our existence. The elites have tolerated this and now we are not only in a war, we are also struggling with survival. Israel knows this problem very well. We are fighting for our existence today as well.
I'm on the hit list of al Qaeda and other terror organisations already for 15 years, but today we are all on this list and we witness this on a daily basis. I am infuriated with the politicians that made this mass immigration as well as the tsunami of asylum seekers possible. I'm not claiming that every migrant is a terrorist but they have ideologies which oppose freedom and democracy. They were never asked to adapt and today we see the results: total war, not only by people coming from Syria and Iraq but also by homegrown terrorists.
We didn't reach the worst yet. In the next decades the problem will grow further. In Africa, there is a demographic explosion. According to the UN, a third intends to move to Europe. With our open borders we are incapable to fight for our existence. We are in a very difficult situation and our leaders are fully responsible for it.