---
Typical delusional dhimmi-mindset thinking…
The victims of centuries of jihad have to prove to 'their superiors' that they really do not mean them any harm or challenge their over-lord status. This is the result of 1400 years of being under the yoke of Islamic supremacy and needs to be given the stiff arm. Never again.
NOTE: The only "co-existence" experienced was at the hand of benevolent rulers that didn't inflict the full arm of Islam and any one given time. That does nothing to wipe away the reality of jihad and Islamic supremacy when it was deemed warranted.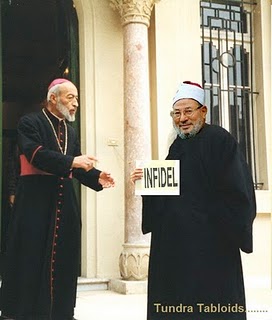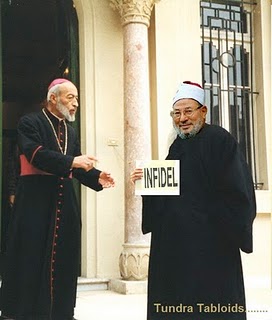 Just listen to this drivel:

"We have to rebuild trust between Muslims and Christians even if it's not easy"
Christians in the Middle East do not want to throw away 1,400 years of coexistence in the region. While their history has seen better and worse times, they soon hope to return to their homes in places like Syria or Iraq after the crisis ends.
FR. MTANIOS HADDAD
Archimandrite of the Greek-Catholic Church
"We'll be back, yes. We will return to Iraq, to Mosul, to Syria, to Maalula, to Beirut and to every place we have lived. They are our homes and our lands. So, what are we going to leave them for? To whom? To what civilization? We must go back and rebuild trust between ourselves little by little. Even if it's not easy."
The aftermath of exacerbated extremism and the war is the main challenge, especially for minorities. In most cases they are the targets of the attacks. As such, they rightfully claim to be citizens, not just tolerated in their own land.
FR. MTANIOS HADDAD
Archimandrite of the Greco-Catholic Church
"If they want to reduce us to minorities, or treat us as if we are, or as if we are expatriates, I tell them that we do not feel that way. We are genuine citizens and landowners, who have rights and ask for a dignified life in our home country."
More here.  H/T: ChristianiaNetwork
NOTE II: Father Gabriel Naddaf would beg to differ with his co-religionist, he understands the Islamic mindset all too well.