---
Face facts, Mohamed would have been joining them if he were around today….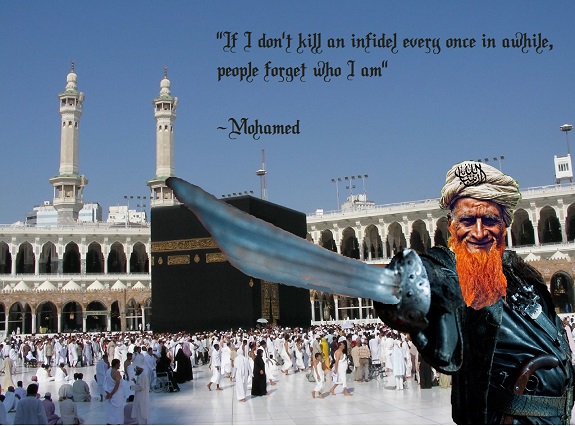 Revealed: Arsenal supporting jihadist who was known to MI5 and a Moroccan-Libyan pastry chef with an Irish ID are named as two of the three terrorists who killed seven in London Bridge attack
The murderer in an Arsenal shirt can today be named as British extremist Khuram Butt (centre and right) who was filmed unfurling an ISIS flag on national TV and was reported to the police twice but still managed to launch murder on Britain's streets.
Butt, 27, a married father of two nicknamed 'Abz' who was born in Pakistan, was so extreme he called fellow Muslims without beards non-believers, would not speak to women directly and was banned from a mosque for berating worshippers for being 'un-Islamic'.
The football fan, who worked KFC and Transport for London, wore an Arsenal shirt under his fake suicide belt as he and two friends crashed their van into crowds on London Bridge before slashing at people with large knives murdering seven people and leaving 48 injured on Saturday night.
One of the friends has been named as Moroccan-Libyan Rachid Redouane (left) – believed to be a pastry chef who married a Scottish wife and lived in Ireland before launching the attack in the English capital. Police say he was living in the Rathmines area of the Irish capital but he was not on their radar as a terrorist.
Butt's involvement is hugely embarrassing for police and the security services because he appeared in a TV documentary last year about British jihadis – and was also involved in a filmed altercation wearing Rayban sunglasses with police after he unfurled an ISIS flag in Regent's Park. He was known to MI5.