Bad news, and they're getting funding from all the usual Islam 101 suspects.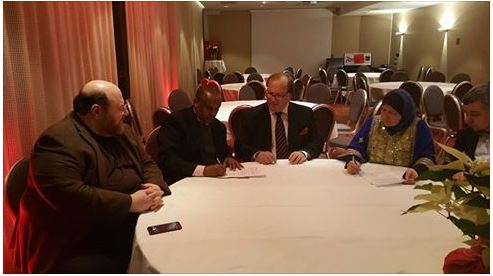 Grand Mosque Foundation was officially established
Oasis Foundation papers were signed on Friday 16 December.
Foundation spokeswoman Pia Jardi , says that Oasis Foundation intends shortly to sign up for the Patent and Registration Board.
– First, we set up a little strategies, but very soon we will leave the papers official papers, she says.
– In fact, I belong to the government, but it is possible that I will make it a part-time job.
Held in Helsinki the Scandic event was attended by individuals, as well as, inter alia, radio presenter known as the former influential Center Party member Abdirahim "Husu" Hussein .
The Foundation's Board of Directors consists of six members: Anas Hajjar , Abdessalam Jardi , Ilari Kari Beach , Mottaqi Khan , Pia Aiyad and Mohammed Hussein Omer. 
In the past, the public has been told that the Grand Mosque Foundation project is about to get funding more than a hundred million euros from the Bahraini royal family. In addition, the Foundation is also ready to receive funding from Saudi Arabia, Qatar and the United Arab Emirates, provided that they agree to the same terms and conditions as Bahrain.
– See more (In Finnish)