He can be heard yelling "Don't forget about Aleppo, don't forget about Syria" and uses the Islamic phrase "Allahu Akbar" (God is great).
Here he is before he was shot dead: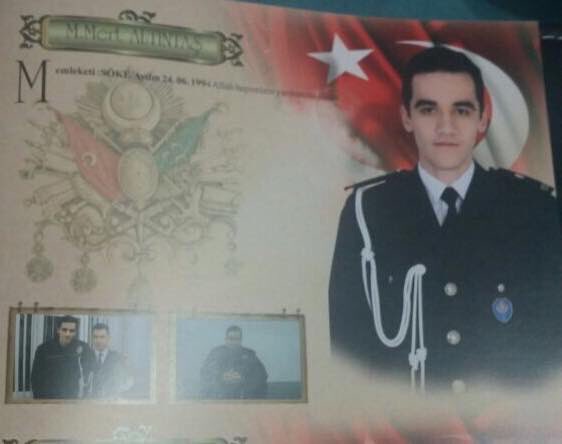 Russian Ambassador Shot in Turkish Capital Amid Syria Tensions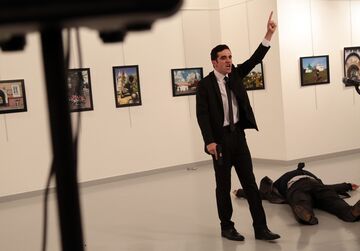 by Benjamin Harvey
Russia's ambassador to Turkey, Andrey Karlov, was shot while attending an art exhibit in Ankara on Monday, according to local media.
A man wearing a suit shouted about Aleppo, the city in Syria where Russia's military backed an offensive by Syrian government forces, after shooting Karlov in the back at a gallery in the city's Cankaya district, CNN-Turk reported. Clashes were ongoing at the gallery as of 7:25 p.m. in Ankara, it said. Karlov was taken to a nearby hospital in a critical condition, the state-run Anadolu Agency reported.
A still image broadcast by CNN-Turk showed a man said to be Karlov lying supine on the floor, arms outstretched, while a man with a gun gestures nearby.
Russian ambassador to Turkey shot dead.
Published: December 19th, 2016
UPDATE: A video of the assassin shows a Turkish riot police officer named Mert Altintas fired up to five bullets into the Russian ambassador at point blank range. Altintas yelled "allaha akbar" repeatedly, while waving his gun around and raging about what was happening in Allepo, after murdering Karlov. He was eventually shot dead by security.
Andrei Karlov, Russia's ambassador to Turkey, was shot and killed on Monday. Dec. 19.
The shooting took place while Karlov was making a speech at an art exhibition in the Turkish capital of Ankara, Turkey's Daily News reported. Hurriyet also reported that a representative from the Russian Embassy "believed that it was a radical Islamist attack," but other sources said the shooter was a member of Karlov's own security detail.
More here