Only in a Leftist PC steeped society would this man have to explain himself……
'Eating our bacon reduces your chance of being a suicide bomber by 100 per cent': Butcher says he meant no offence with sign he posted in his shop window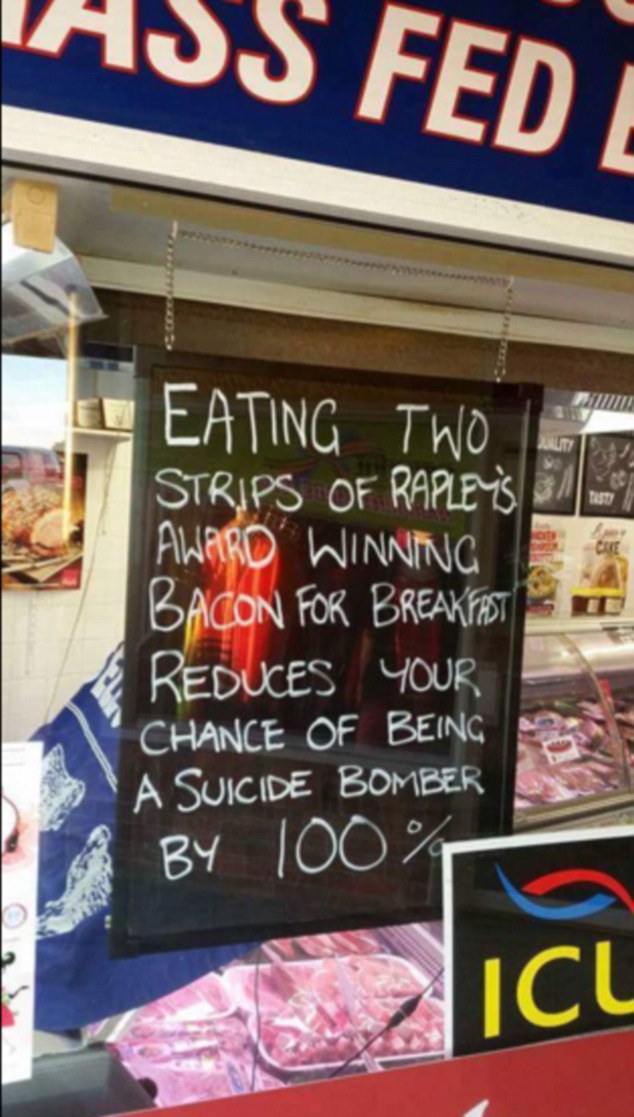 A butcher's sign has raised a eyebrows on the NSW South Coast The sign said eating bacon reduced the chance of being a suicide bomberNarooma butcher Jeff Rapley had put the sign up earlier this monthMr Rapley said he meant no offence adding he has a Muslim assistant 
By SINEAD MACLAUGHLIN and LOUISE CHEER FOR DAILY MAIL AUSTRALIA
PUBLISHED: 22:24 GMT, 23 May 2016 | UPDATED: 22:26 GMT, 23 May 2016
A butcher's sign that said eating his bacon reduced the chance of someone being a suicide bomber has raised a few eyebrows.
A photo posted on social media showed a sign up in the window of Jeff Rapley's butchery, Rapley's Midtown Quality Meats, in Narooma on the NSW South Coast.
'Eating two strips of Rapley's award-winning bacon for breakfast reduces your chance of being a suicide bomber by 100 per cent,' the sign read.