Do not feel sorry for him, I don't, this is the mob in which he swims, just a more street gutter expression of ther socialist/statist mindset.
That thousands turn up to hear this dithering idiot speak tells you how much recent immigration and marxist Democrat policies have damaged America.
BERNIE SANDERS FORCED OFF SEATTLE STAGE BY BLACK LIVES MATTER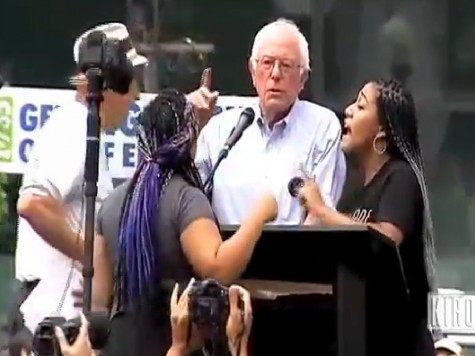 At a Saturday afternoon rally in Seattle, Washington, Democratic presidential candidate Sen. Sen. Bernie Sanders (I-VT) was shut down by screeching Black Lives Matters protestors.
As Sanders was speaking, two women surrounded his podium and said they would shut the event down if they were not allowed to speak. When an attempt was made to ask the women to "be reasonable," they began shouting. Soon, avowed socialist Sanders was forced to leave the stage where he shook hands with many white well-wishers in the audience.