Not to worry, the hack bureaucrats in the EU will think of yet another way to screw the taxpayer and call it by another name.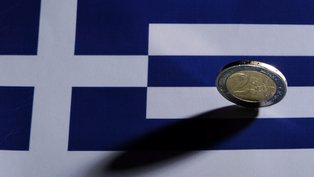 Greece 'cannot afford IMF repayment' in June – minister
24 May 2015

From the section
Greece cannot make a repayment to the International Monetary Fund (IMF) due on 5 June as it does not have the money, the interior minister says.
"The four instalments for the IMF in June are €1.6bn, this money will not be given and is not there to be given," Nikos Voutsis told Greek TV.
Greece has to come to a deal with the IMF and EU to secure the final tranche of its bailout from the institutions.
The finance minister meanwhile told the BBC that progress was being made.
'Do their bit'
Yanis Varoufakis said Greece had worked hard to meet its end of the deal with its lenders, and that now it was up to the international institutions to reciprocate.
"Greece has made enormous strides at reaching a deal," he told the Andrew Marr Show.
"It is now up to institutions to do their bit. We have met them three-quarters of the way, they need to meet us one-quarter of the way."