The subjugated victims of Mohamed's raids and captures could have said the very same things.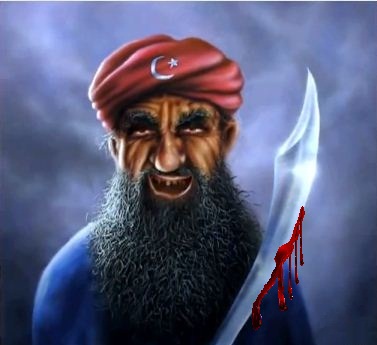 EXCLUSIVE Mothers raped, babies murdered and children orphaned: The desperate Yazidi survivors who escaped ISIS… but lost everything

Tragic: Tahsyn shows a photo of his two little boys. It is all he has left of them after they were murdered by IS
An estimated 200,000 Yazidi were forced to flee as ISIS advanced
Thousands were murdered while scores of women were taken as slaves
Some survivors such as Tahsyn lost their entire families as they escaped
Others saw babies murdered and women of all ages being raped
Most now live in refugee camps near Lalesh and Zohar in northern Iraq
This time last year, Tahysn was a happily married father of two little boys aged three and four and lived close to his large, extended family in the village of Shangal in Iraq's Nineveh province.
Now, home is a ramshackle refugee camp under the protection of Kurdish peshmerga fighters and he is grieving the loss of his wife and sons.
His story is far from unique. Like so many other Yazidis, his family were massacred by ISIS jihadis as they swept through northern Iraq in August. Like them, Tahysn has lost everything.
'When the Daesh (a local slang term for ISIS) came to our village, I was not there but called my family and told them to leave. It was a big shock for everybody.