The Islamic horrors continue.
Related. The Islamic State appears to have its own version of Al-Qaeda's magazine, 'Inspire'. (h/t: Vlad)
ISIS magazine claims group has enslaved and sold Yazidi women and kids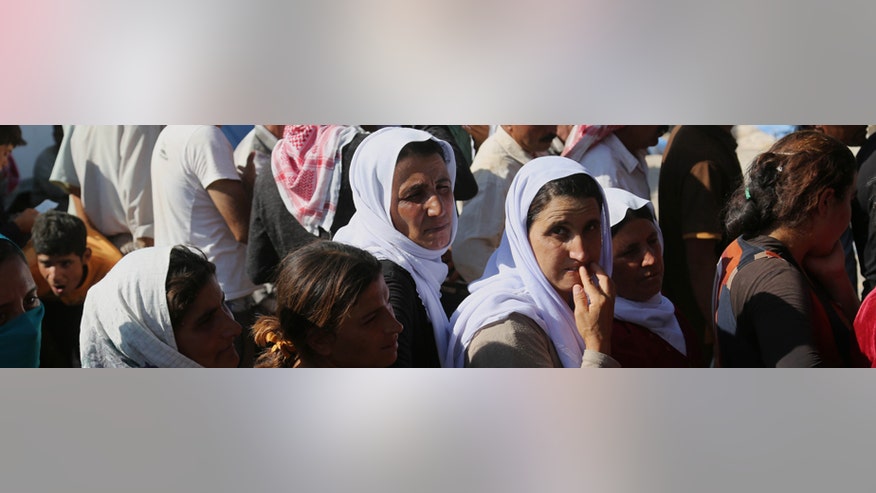 BAGHDAD –  Islamic State group militants captured, enslaved and sold Yazidi women and children, the latest issue of a magazine purportedly published by the extremists claimed Sunday, the group's first public confirmation of the allegations.
The claim came as Human Rights Watch said Sunday that hundreds of Yazidi men, women and children from Iraq are being held captive in makeshift detention facilities in Iraq and Syria by the group.
Tens of thousands of Yazidis fled into the Sinjar Mountains, many getting stranded there for weeks, after the militant onslaught on Sinjar in August, part of the Islamic State group's lightning advance across northern and western Iraq. Hundreds were killed in the attack, and tens of thousands fled for their lives, most to the Kurdish-held parts of northern Iraq.
Iraq's Human Rights Ministry said at the time that hundreds of women were abducted by the militants, who consider the Yazidis, a centuries-old religious minority, a heretical sect. Some also alleged the Islamic State group enslaved and sold Yazidi women and children, though the group itself did not comment on it.
The issue of Dabiq magazine released Sunday stated that "the enslaved Yazidi families are now sold by the Islamic State soldiers." It added that "the Yazidi women and children were then divided according to the Shariah amongst the fighters of the Islamic State who participated in the Sinjar operations."