If it were Jews in threat of being murdered somewhere in the world (Raid on Entebbe), the Jewish state would have acted within a nanosecond, the states of the Christian world turn their gazes elsewhere. Jews are more moral.
Where is the World Council of Churches, where is the Finnish Lutheran Church or any other major Christian body in banging the drum on their co-religionists being systematically exterminated by these Islamonazi scumbags? I have yet to hear of the Finnish Lutherans, Free Church or other local denominations organizing themselves into street protests, banging on the doors of the parliament house demanding some kind of concrete political / military action to save these people.
NOTE: This kind of brutality was instituted by Mohamed himself after his hijra to Medina (Yathrib, the former Jewish city vanquished by Mohamed and its menfolk beheaded)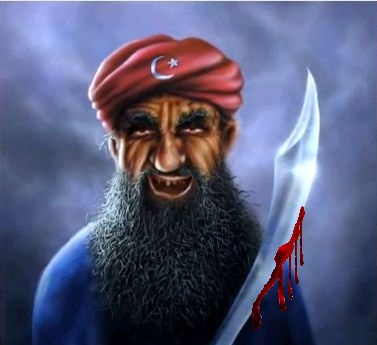 Anglican Vicar of Baghdad: "Child I baptised cut in half by ISIS"
Posted on: August 8, 2014 2:45 PM
Canon Andrew White (left) in the church where he had christened the boy.
Photo Credit: St George's Church
By ACNS staff
The five-year-old son of a founding member of Baghdad's Anglican church was cut in half during an attack by the Islamic State1 on the Christian town of Qaraqosh.
In an interview today, an emotional Canon Andrew White told ACNS that he christened the boy several years ago, and that the child's parents had named the lad Andrew after him.
"I'm almost in tears because I've just had somebody in my room whose little child was cut in half," he said. "I baptised his child in my church in Baghdad2. This little boy, they named him after me – he was called Andrew."
The fact that Andrew's brother was named George after St George's Anglican Church in Iraq's capital demonstrates the strong ties the family had to the church there. The boy's father had been a founder member of the church back in 1998 when the Canon had first come to Baghdad. Canon White added, "This man, before he retired north to join his family was the caretaker of the Anglican church."
Though the move north should have proved safer for the Iraqi Christian family, the Islamic State made sure that it became a place of terror. "This town of Qaraqosh is a Christian village so they knew everybody there was part of their target group," said Canon White. "They [the Islamic State] attacked the whole of the town. They bombed it, they shot at people."
The Islamic State group captured Qaraqosh overnight Wednesday/Thursday after the withdrawal of Kurdish forces.
The boy's family, along with many other townspeople, have now fled to Irbil. However, news reports suggest this may be the Islamic State's next destination.
More here. H/T: ESW