The four Hamas cannon fodder tots no longer among the living.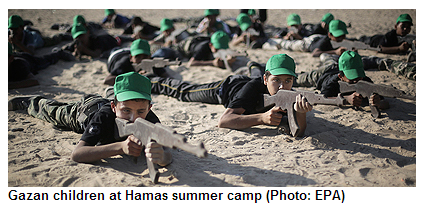 Why Were Children Playing on a Gaza Beach When IDF Targeted a Terror Site?
By: Hana Levi Julian
Published: July 17th, 2014
Four Gaza children are dead in the aftermath of an attack Wednesday afternoon by the Israeli Navy that was aimed at Hamas terrorist operatives in Gaza City.  The incident, which raised an international outcry, is under investigation by the IDF.
Washington Post journalist William Booth reported in a column for the newspaper that Hamas often uses a site near the civilian hotel along the beach as a launching pad from which to fire rocket attacks against Israel. "It is not unusual for militants to launch rockets from sites near my hotel," he wrote in his column on July 16.
A New York Times reporter also noted that a structure near the beach had been targeted in the attack by the IDF.
"My driver and I rushed to the window to see what had happened. A small shack atop a sea wall at the fishing port had been struck by an Israeli bomb or missile and was burning… "
It is clear the IDF was not just firing at little boys on the beach, but rather was aiming at a specific structure; most likely a concealed rocket launcher, similar to the hundreds of others that have been targeted and destroyed by IAF pilots over the past year.
If Hamas had not used the site to attack Israel, the IDF would not have fired at the spot to silence the rocket fire – Israel's standard response to Hamas attacks.