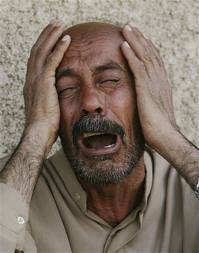 Then she calmly told the judge: "I am a Christian and I never committed apostasy."
Sudan woman gets death sentence for apostasy
Judge orders Mariam Yahia Ibrahim Ishag to be hanged for apostasy and given 100 lashes for adultery, prompting protests.
Last updated: 15 May 2014
A Sudanese judge has sentenced a Christian woman to hang for apostasy, despite appeals by Western embassies for compassion and respect for religious freedom.
The case, thought to be the first of its kind to be heard in Sudan, involves a woman whose Christian name is Mariam Yahia Ibrahim Ishag.
"We gave you three days to recant but you insist on not returning to Islam," Judge Abbas Mohammed Al-Khalifa told the woman on Thursday, addressing her by her father's Muslim name, Adraf Al-Hadi Mohammed Abdullah.
"I sentence you to be hanged to death."
Khalifa also sentenced Ishag to 100 lashes for "adultery".
Ishag, who rights activists say is pregnant and 27 years old, reacted without emotion when Abbas delivered the verdict at a court in the Khartoum district of Haj Yousef.
Earlier in the hearing, an Islamic religious leader spoke with Ishag in the caged dock for about 30 minutes.
More here. (al-Jizz)
Egyptian police kill student in Cairo clashes
Egyptian students clash with riot police in Cairo. (File photo)
An Egyptian student has died from the wounds he sustained during a crackdown on a protest rally in the capital, Cairo.
Mohamed Ayman from Ain Shams University took security forces' birdshot to the head on Tuesday.
Violent clashes broke out after police fired tear gas and birdshot to prevent students from getting close to Defense Ministry headquarters. The students also responded by throwing stones and sticks on the riot police.
A number of students were injured and several others bussed to detention centers.
Egyptian students were expressing their anger over the planned presidential election due later this month.
More here. (Press TV, Iranian agitprop site)
Fighting between Yemen army and al-Qaida kills 42
SANAA, Yemen — Fierce fighting between soldiers and al-Qaida militants in southern Yemen killed at least 42 people Wednesday, as families fled past destroyed homes, burning cars and streets littered with corpses, witnesses and officials said.
The fighting in the town of Azzan in Shabwa province comes amid an ongoing army offensive against al-Qaida in the Arabian Peninsula, Yemen's local branch of the terror group that the U.S. considers the world's most dangerous.
Al-Qaida militants tried to retake the town in a dawn attack as government warplanes and naval forces bombed militants hiding in homes, officials said. Soldiers battled militants for hours in street-to-street clashes.
Maj. Gen. Ahmed Seif al-Yafie said that the fighting killed at least 30 al-Qaida militants, including six of the local leaders of the terror group. He did not offer casualty figures for government forces.
Yemeni security officials, who spoke on condition of anonymity as they weren't authorized to brief journalists, said the clashes killed at least 12 government troops. It wasn't immediately clear if there were civilian casualties.
Al-Yafie also said al-Qaida militants used child soldiers in the fighting, without elaborating.
Attacks around Iraq's capital kill 21 people
BAGHDAD (AP) — Bombings and shootings around Iraq's capital, Baghdad, killed at least 21 people and wounded dozens Thursday, officials said.
The first blast came from an explosives-laden car left in a parking lot in Karrada, a busy commercial area home to several government offices, as well as courts and a hospital. The explosion killed four civilians and three police officers and wounded 21, a police officer said.
A few minutes later, a suicide bomber with an explosives belt blew himself up at the main gate of an office affiliated with the Higher Education Ministry, killing two police officers and two civilians, the police officer said. The attack wounded 12, he said.
Blast near border crossing point between Syria and Turkey kills 29
Two Syrian national flags hang on a pole as government officials inspect damages in the old city of Homs, Syria, Thursday, May 8, 2014. (AP)
Bassem Mroue And Suzan Fraser, The Associated Press
Published Thursday, May 15, 2014 8:30AM EDT 
BEIRUT — An explosion near a border crossing between Syria and Turkey killed as many as 29 people and wounded many others Thursday, an activist group monitoring the Syrian civil war said.
The Britain-based Syrian Observatory for Human Rights said the explosion occurred at a garage near the Bab al-Salameh border crossing in the northern Syrian province of Aleppo. The garage is used by passengers who come to or leave the crossing point, said Rami Abdurrahman, the Observatory's chief.
Abdurrahman said it was not immediately clear if a suicide bomber caused the blast. He said those wounded were being treated in Turkish and Syrian hospitals. He said the dead included at least five women and three children.