You will learn to appreciate dear leader!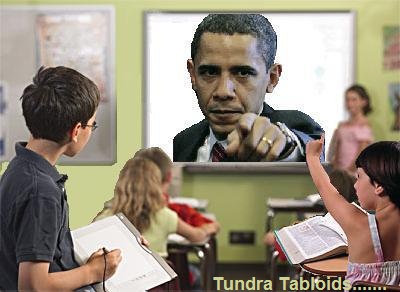 California Assembly Unanimously Passes Bill to Teach About Racial Significance of Obama
California. It's like North Korea, but with better beaches.
A bill that passed the Assembly with unanimous bipartisan support Thursday encourages California schools to teach students about the racial significance of Barack Obama's presidency.

The Assembly approved AB1912 with a 71-0 vote and no debate or discussion. It now heads to the state Senate.
Of course there's no discussion or debate. What's there to discuss or debate?
The bill by Assemblyman Chris Holden, D-Pasadena, asks state education officials to include Obama's election in history and social studies standards laying out what students are expected to learn.

High school history students already learn about recent presidents. But Holden says lessons about Obama also should focus on what his election meant for racial equality and civil rights.

He said on the Assembly floor that the 2008 election "should not just be a mere footnote within textbooks, but rather focus on the significance of Americans overcoming our nation's past and acknowledging that Americans are moving in the right direction."
No it should be the whole chapter. We can just stop teaching the 19th century, except for the Civil War and then cut right to Obama in 2008. It's the new education.