Quoting churchill gets you busted.
I bet if Muslims were quoting portions from Shakespeare's Merchant of Venice pertaining to Shylock, "The Jew", the police wouldn't be arresting anyone at all.
The Churchill Bust
by Mark Steyn
Steyn on Britain
April 26, 2014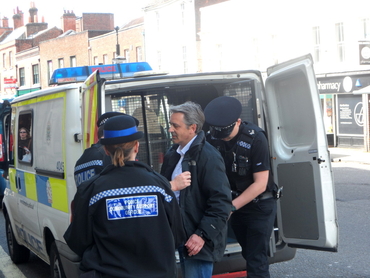 On page 196 of After America (personally autographed copies of which are exclusively available right here, he pleads with an eye to his free-speech pushback), I write as follows:
In 2009, Geert Wilders, the Dutch parliamentarian and soi-disant Islamophobe, flew into London and promptly got shipped back to the Netherlands as a threat to public order. After the British Government had reconsidered its stupidity, he was permitted to return and give his speech at the House of Lords – and, as foreigners often do, he quoted Winston Churchill, under the touchingly naive assumption that this would endear him to the natives. Whereas, of course, to almost all members of Britain's current elite, quoting Churchill approvingly only confirms that you're an extremist lunatic. I had the honor a couple of years back of visiting President Bush in the White House and seeing the bust of Sir Winston on display in the Oval Office. When Barack Obama moved in, he ordered it removed and returned to the British. Its present whereabouts are unclear. But, given what Churchill had to say about Islam in his book on the Sudanese campaign, the bust was almost certainly arrested upon landing at Heathrow and deported as a threat to public order.
If you're wondering what it is Churchill actually said about Islam, well, I've quoted it from time to time – for example, a decade ago in a Telegraph column about the then Home Secretary's proposed protections for Islamic sensitivities, "Blunkett's Ban Will Fan The Flames". I began the piece with a reader's recollection of the first weeks of the Salman Rushdie fatwa:
A couple of years back, I mentioned the fatwa against Salman Rushdie and received a flurry of lively e-mails. It was Valentine's Day 1989, you'll recall, when the Ayatollah Khomeini issued his extraterritorial summary judgment on a British subject, and shortly thereafter large numbers of British Muslims were marching through English cities openly calling for Rushdie to be killed.

A reader in Bradford recalled asking a West Yorkshire officer on the street that day why the various "Muslim community leaders" weren't being arrested for incitement to murder. The officer said they'd been told to "play it cool". The calls for blood got more raucous. My correspondent asked his question again. The policeman told him to "F— off, or I'll arrest you."
And so it has gone, ever more openly, across the ensuing quarter-century. Point out problematic aspects of Islam, and the British state's response is "F— off, or I'll arrest you." Her Majesty's Constabulary do not yet police their charges quite as strictly as the Saudi mutaween, but they're getting there: The day after Drummer Lee Rigby was hacked to death in broad daylight on the streets of London, a march in support of the "Help for Heroes" military charity led to a five-hour standoff between marchers and police, ending with the arrest of Lee Cousins for "mocking the Islamic prayer ritual" by getting down on his hands and knees outside the pub. He was fined 600 pounds.