Traditional sons of the desert diplomacy.
For the Left, if a Jew even looks cross eyed at a Muslim, all hell breaks loose, when Muslims murder Muslims, it's "pass the bong".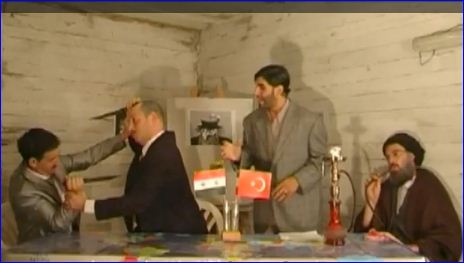 The reasons for this are obvious to me, in the tribal ME, clans/tribes are of utmost importance, lacking that, they are easy pickings by their fellow Muslims. If they treat fellow Muslims that way, just think of what they are doing to Christians presently, let alone to Jews if they could.
H/T: Vasarahammer via HurryUpHarry
"Here is the Yarmouk camp, or camp of death or starvation, the names mean the same thing. Here around 20,000 Palestinians have been under siege for more than 7 months. After the food ran out a couple of months ago, the weakest– children and the elderly– are paying the price, which is death by starvation in the Yarmouk Palestinian refugee camp which lies in South Damascus.
"They're eating leaves and grass amidst dozens of them dying from starvation, including women and children.
"Footage was able to break though the siege and show the magnitude of the tragedy that the inhabitants of Yarmouk are living through. One of the faces of the suffering is the little girl 'Ala who is suffering from kidney failure and dehydration resulting from malnutrition and lack of medicine. However she's not the only one going through this.