You can always count on the Islamonazis to do what normal people would never even contemplate.
Israeli air force retaliates after Palestinians fire rockets near Ariel Sharon funeral
Associated Press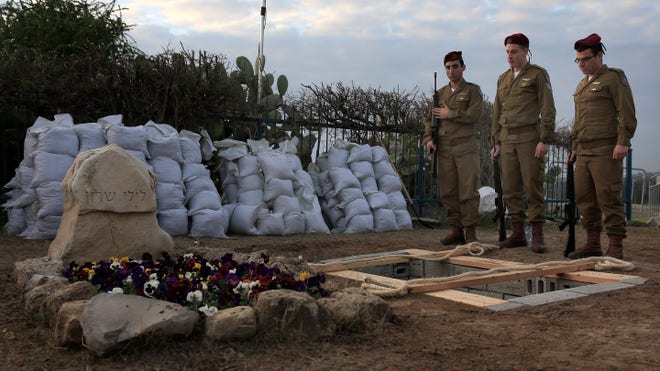 Israeli soldiers from a paratroopers unit rehearse at the grave site for late Israeli Prime Minister Ariel Sharon, who will be buried next to his wife, outside his ranch in Havat Hashikmim, southern Israel, Sunday, Jan. 12, 2014. A state memorial is planned for Monday with the participation of Israeli and world leaders, the prime minister's office said. (AP Photo/Tsafrir Abayov) (THE ASSOCIATED PRESS)
JERUSALEM –  The Israeli air force retaliated to Palestinian rocket attacks from the Gaza Strip on Monday, hitting sites used by militants after rockets were fired from the territory near the end of former Israeli Prime Minister Ariel Sharon's funeral.
The location in southern Israel where Sharon was later buried is within range of rockets from the Palestinian territory, and rockets have hit the area in the past. Israeli police said they exploded about six miles away from the ceremony.
Military spokesman Lt. Col. Peter Lerner said "The Terrorists and their infrastructure operating in the Gaza Strip will not succeed in their grotesque intentions. The IDF will seek them out, eliminate their capabilities and pursue them wherever they may hide," he said.
In Gaza, a security official said training sites used by militants from Islamic Jihad and Hamas were hit. Some damage was caused but no injuries were reported, the official said, speaking anonymously as he is not allowed to speak with the media.