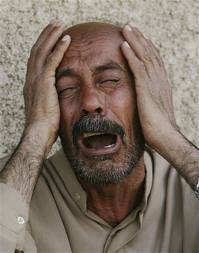 Car bomb kills six, wounds up to 15 outside Libya's Benghazi -sources
By Ayman al-Warfalli
BENGHAZI, Libya (Reuters) – A suicide bomb attack at an army base outside Benghazi in eastern Libya killed at least six people and wounded up to 15 on Sunday, medical and security sources said.
The attacker blew himself up in a car in front of the base in Barsis, some 50 km (30 miles) outside Benghazi, a security source said.
All those killed were soldiers, medical sources said, but the security source said the attacker was among those killed.
The security situation has sharply deteriorated in Libya's second-largest city in the past few months where car bombs and assassinations of army and police officers happen regularly.
Two Egyptian soldiers, three militants killed in Sinai firefight
Supporters of Egypt's deposed Islamist President Mohamed Morsi demonstrate in Cairo for his reinstatement. (Amr Nabil / Associated Press / December 20, 2013)
By Laura KingDecember 20, 2013, 10:09 a.m.
CAIRO — An Egyptian army raid meant to snare a wanted Islamist turned into a fierce firefight that left at least two soldiers and three militants dead in the volatile northern Sinai Peninsula on Friday, the military said.
The troops moved in after receiving reports that a fugitive Islamist leader was holed up in an area near Rafah, which borders the Gaza Strip. Instead of nabbing him, however, they found themselves in a gun battle so intense that the army rushed in helicopters to back up the soldiers on the ground.
The army's chief spokesman, Col. Ali Ahmed, said in a statement that eight troops were wounded in "dense fire from all directions."
The wanted man was affiliated with Ansar Bayt al Maqdis, or Partisans of Jerusalem, an Islamist group implicated in a number of high-profile attacks against Egyptian security forces in Sinai. The group also claimed responsibility for a failed attempt in September to assassinate Egypt's interior minister, employing a massive suicide bomb.
Syrian photographer killed in Aleppo
BEIRUT Sat Dec 21, 2013 12:49pm EST