The great bamboozler-in-chief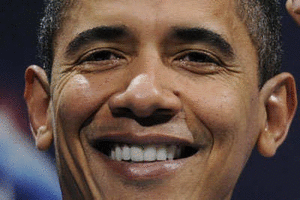 What Will It Take?
Americans still seem willing to give a pass to the disaster in the White House.
Let me begin with a categorical statement that, given current events and recent political history, can be easily defended: Barack Hussein Obama is a willful, indoctrinated child of the Left with strong Islamic sympathies who is not fit to govern. Indeed, he would not be fit to govern Lower Slobovia, let alone the United States of America. Obama is a historic disaster of the first magnitude and, if not restrained, he will see to the irrevocable decline of the country which foolishly elected him, leaving the world on the brink of a conflict — or in the midst of one — whose repercussions cannot be underestimated.
Accompanying the undeniable havoc and damage that Obama is wreaking on his country and equally on its allies — Honduras, Saudi Arabia, Egypt, Poland, Czech Republic, Israel, and possibly Taiwan — is the sense of helplessness that overcomes one when writing or speaking about a rogue president and his destructive administration. I feel this personally, having done my utmost in books, articles and lectures, from 2008 to the present, to warn whomever might read or listen that Obama represented a greater threat to the U.S. and the oddly named "free world" than any of our most dedicated and belligerent enemies. Even prior to his nomination as the Democratic candidate for the presidency, my distrust of this man was proprioceptive. And after his Missouri address, I wondered why anyone would want to "fundamentally transform" a country which, for all its flaws, perched atop the pinnacle of success in comparison to any other country.
Everything Obama has done since then has only served to confirm what was originally a deep suspicion and soon grew to become a complete certainty. Dozens of meticulously researched books have been published to the same effect. And yet very few people seemed to be paying attention. No less disconcerting, those who argue that to criticize Obama is a sign of deep-dyed racism are, of course, relying on slander and misappropriation of language to protect their chosen standard bearer and his Marxist/progressivist/utopian project.