Islamic intimidation. 
Not unlike what the mob did to businessmen and shop owners in areas they sought to bring under their control. Just think what would happen if their numbers grew.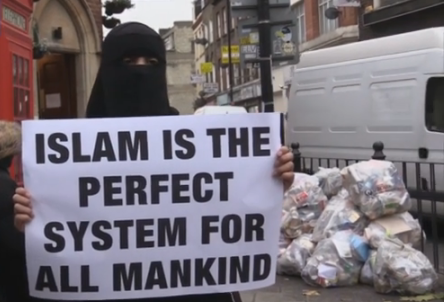 NOTE: The irony of her standing with her message next to a pile of garbage escapes her.
Muslim protestors demand restaurants and shops stop selling 'evil' alcohol warning them they face 40 lashes if they carry on 
Around 60 Muslim campaigners gathered in Brick Lane, East London, yesterday to protest the sale of alcohol
Dozens of men and women gathered on Brick Lane, East London


Delayed as English Defence League members staged counter-protest

Among protestors was Anjem Choudhary, former leader of Al-Muhajiroun

Organisers said protest was held yesterday to coincide with large numbers of office workers expected to be celebrating Christmas in the area

By WILLIAM TURVILL
PUBLISHED: 13:10 GMT, 14 December 2013 | UPDATED: 15:51 GMT, 14 December 2013
Dozens of Muslim protestors gathered to demand that businesses stop selling alcohol in a popular East London area yesterday.
The group, led by former Al-Muhajiroun leader Anjem Choudary, warned restaurants and shops in the Brick Lane area that they face 40 lashes if they continue to sell the product, which is banned under Sharia Law.
Around 60 men and women in burkhas handed over warning letters to Muslim-owned businesses in the area after the protest was initially delayed by a small number of English Defence League members staging a counter-protest.
The Muslim protest, calling for the ban of alcohol in the Brick Lane area, was led by Anjem Choudary (pictured)