A taste of more in the future if the situation isn't turned around.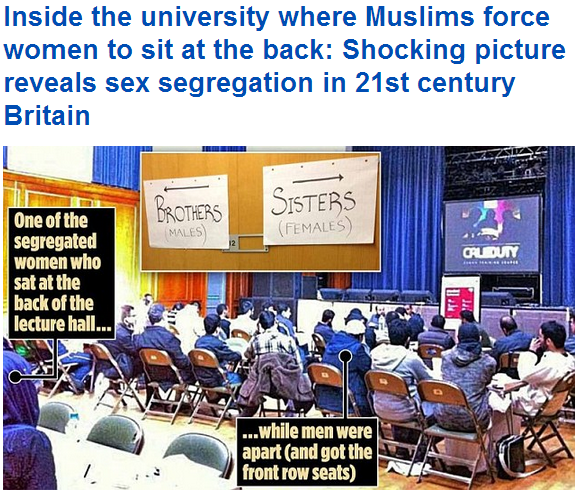 Inside the British university where Muslims were segregated by sex: Shocking picture shows how men were reserved front-row seats while women had to sit at the back
Photograph was taken earlier this year at a Leicester University seminar

The same Islamic society came under fire for 'brothers and sisters' sign


Universities UK has backed down from guidelines which allow segregation

Speaker at the event: 'Separate seating is not something we ever enforce'

By ROSS SLATER
PUBLISHED: 22:37 GMT, 14 December 2013 | UPDATED: 01:23 GMT, 15 December 2013
With women obliged to sit yards behind chairs reserved exclusively for men, the photograph above shows the shocking reality of gender segregation at a British university.
It was taken earlier this year at a training course at Leicester University organised by its Islamic Society. The course was entitled Call Of Duty and it featured a guest speaker from a hardline Islamic group.
Rupert Sutton of campaign group Student Rights, which monitors campus extremism, said: 'The obvious discrimination in this picture is what segregated seating can mean in practice – women pushed to the back of the hall, while men are given the best seats to see and hear the speaker.'