A fraud.
Choosing to not take a stand in celebrating the liberation of Afghani women due to her ideological stance vis-a-vis the Bush administration, does not make her worth honoring in my book. When push comes to shove, lefty ideologues do not really represent and support who they say they represent and support, just like in the Soviet Union and in Communist China, it's always party and ideology first, human beings last, especially those who do not share your political views.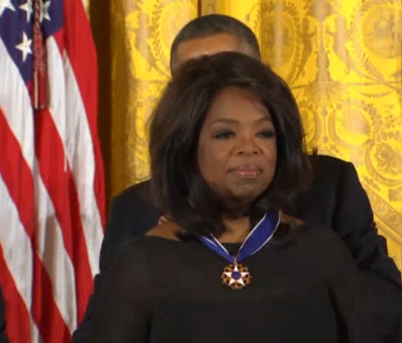 When Barack Obama awarded media mogul Oprah Winfrey the Presidential Medal of Freedom on Nov. 20, many conservatives objected, citing her recent suggestions to a BBC interviewer that opposition to the president's policies is racially motivated and that many in America treat the president with "disrespect … because he is an African-American." Winfrey is entitled to her opinion, and even if she is wrong about important matters, that alone would not preclude her from receiving the Medal of Freedom.
But there is a reason to oppose her being recognized with the award Harry S. Truman created on July 6, 1945, to honor those who have "made an especially meritorious contribution to the security or national interests of the United States, to world peace, or to cultural or other significant public or private endeavors."
In the spring of 2002, just over six months after 9/11 and shortly after the Taliban was ousted from power in Afghanistan, bringing to an end its war on women, Winfrey was approached by a different president of the United States who sought her high-profile assistance in publicizing the re-entry of women into Afghan society. As the Chicago Tribune's Jeff Zeleny put it in March 2002: "the Bush administration quietly asked Oprah Winfrey to join an official U.S. delegation to tour Afghanistan's schools, celebrating young girls' return to the classroom following the fall of the Taliban regime."
Amazingly, Winfrey declined. As her PR rep confirmed, "Given her responsibility to the show, she isn't adding anything to her calendar. … She was invited, but she respectfully declined." The trip was to include Condoleezza Rice, Karen Hughes and other high-profile women. But Oprah was clearly the star, and when she declined, the trip was called off.