Remember folks, the Jane sect is ultra pacifist, they wouldn't hurt a flea, literally. Placed within a sea of intolerant Muslims, the outcome was inevitable.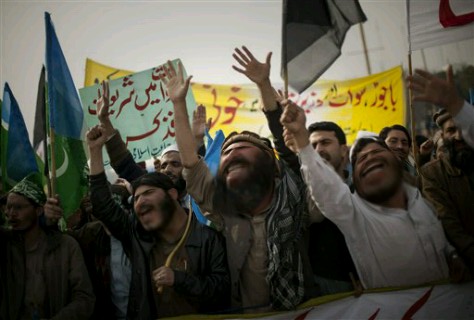 PAKISTAN: Two young scheduled caste Hindu women were raped by Muslim landlords; one of them was later murdered
December 4, 2013
ASIAN HUMAN RIGHTS COMMISSION – URGENT APPEALS PROGRAMME
Urgent Appeal Case: AHRC-UAC-150-2013

4 December 2013
—————————————————————————————
PAKISTAN: Two young scheduled caste Hindu women were raped by Muslim landlords; one of them was later murdered
ISSUES: Rape, violence against women, religious minority groups, impunity and illegal court of law
————————————————————————————–
Dear friends,
The Asian Human Rights Commission (AHRC) has received information that two scheduled caste, Hindu women were raped by their Muslim landlords before their family members. Later on, one of them was murdered in revenge for making a report to the police. She and her mother were abducted by one of the landlords from outside the clinic of a doctor in broad daylight, close to the police station, and she was shot dead in front of her mother. The Shadi Pali Police Station of Umer Kot district, Sindh, took time to register the First Information Report (FIR) in order to give the rapists time to abscond. The family members of the victims are displaced from their village and are living on the roadside in the cold nights but the police and authorities have refused to help them. In providing protection to the rapists, the police and notables of the area forced the victims to reach to a settlement and give amnesty to the rapists. Once again the police have shown their efficiency to get approval from judicial magistrate so that perpetrators are freed.
CASE NARRATIVE:
Ms. Kakoo Kohli (24) and her elder sister, Nallan (26), who belong to the Jane sect of the Hindu religion, were residents of Goth Lalu Shar, Umarkot district, Sindh province. They were both raped by Mr. Mohammad Khadim Shar and his brother Mr. Sirajuddin Shar, the sons of the landlord and the owner of the village, Mr. Lalu Ilyas Shar.
The girls and their family members were working in the fields of Shar and were provided a hut to live in. The main culprit, Mohammad Khadim Shar, was lusting after Shrimati (Ms.) Kakoo and on several occasions asked for sexual favors. However each time Shar was denied. The poverty of Kakoo and her sister and lack of economical support prevented them from leaving their workplace. After a long session of frustration, anger and shame, generated by the constant denial and rejection from Ms. Kakoo, Mohammed Khadim Shar finally decided to take her by force.
More here. H/T Zemira