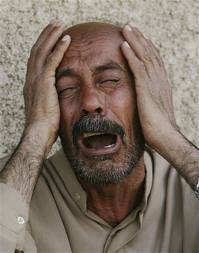 Bombings and Shootings Kill 15 in Iraq
BAGHDAD December 7, 2013 (AP)
By SAMEER N. YACOUB Associated Press
A shooting targeting a row of liquor stores in the capital and other attacks killed at least 15 people across Iraq on Saturday, officials said.
Police officials said gunmen in two speeding cars opened fire on the stores in the northern neighborhood of Waziriyah, killing nine people and wounding four others.
Islamic extremists have frequently targeted liquor stores in Iraq, but alcohol remains available in most cities.
Also, a bomb went off Saturday afternoon at an outdoor market in the northern city of Mosul, killing two shoppers and wounding 15 others.
One hour later, police said, two people were killed and seven others were wounded when a roadside bomb exploded on a road frequently used by military convoys in Mishahda village, just north of the capital.
In the western city of Ramadi, capital of the Sunni province of Anbar, gunmen shot dead the son of a local leader in a Sunni anti-al-Qaida militia in a drive-by shooting. Police said a friend of the son was killed also in the attack.
Syrian air strikes 'kill at least 12' in rebel-held city of Raqqa
Five children and four women reportedly among the dead as seven air strikes hit city in north-east of country
Associated Press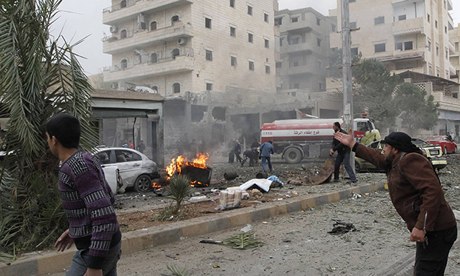 The Britain-based Syrian Observatory for Human Rights said the air raids – seven strikes in total – hit city of Raqqa in the early afternoon. Photograph: Nour Fourat/REUTERS
Syrian government aircraft on Saturday bombed a rebel-held city in the country's north-east, killing at least 12 people including five children, according to reports.
The Britain-based Syrian Observatory for Human Rights said the air raids – seven strikes in total – hit city of Raqqa in the early afternoon. Four women were among the dead and dozens of people were wounded.
Rebels captured Raqqa, the capital of the province of the same name, in March. It is the only major town to fall entirely under opposition control since the Syrian conflict began in March 2011.
Rebels also control territory in the north and parts of Aleppo, Syria's largest city.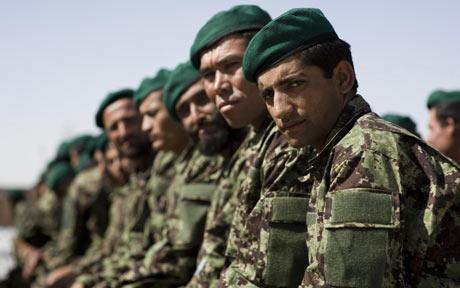 At least 25 Taliban militants killed in clashes with Afghan forces
KABUL, Afghanistan, Dec. 7 (UPI) — At least 25 Taliban militants have been killed in separate clashes with Afghan security forces, government officials said Saturday.
In operations in various provinces around the country, 10 militants were wounded, while another three were arrested, Khaama Press reported.
Six militants were killed and seven injured in northeastern Badakhshan province, said Ahmad Naweed Frotan, a spokesman for the provincial governor. While Badakhshan has been a relatively peaceful province in northeastern Afghanistan, the Taliban have recently increased insurgent activity in the area.
Another 19 militants were killed and three injured in joint military operations by Afghan national security forces in six provinces.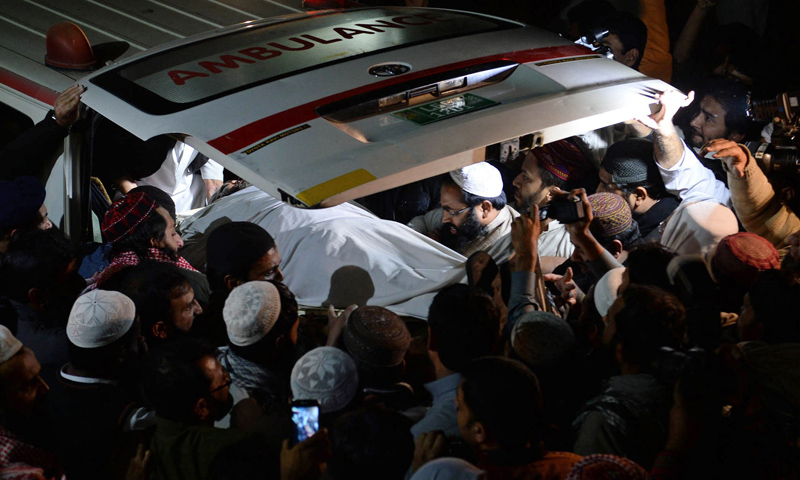 Gunmen kill leader of Pakistani sectarian group
BY MUBASHER BUKHARI
LAHORE, Pakistan Fri Dec 6, 2013 2:24pm GMT
(Reuters) – Gunmen killed the provincial leader of a Pakistani Sunni sectarian group on Friday and police deployed to prevent more violence after the anti-Shi'ite faction called for protests.
Sectarian strife has been worsening in Pakistan, where Shi'ite Muslims make up about 20 percent of the 180 million population.
Maulana Shamsur Rehman, the Punjab leader of Ahle Sunnat Wal Jama (ASWJ), was shot while leaving a mosque, said Mahmmed Rafiq from Shafiqabad police station.
Rehman's group was formed by members of the banned organisation Sipah-e-Sahaba, which had repeatedly said it wanted to expel Shi'ites from Pakistan.
Yemen says regains ministry compound, 12 militants killed
BY MOHAMMED GHOBARI
SANAA Fri Dec 6, 2013 3:43pm EST
1 OF 2. A police officer stops cars on the road leading to the Defence Ministry in Sanaa December 6, 2013.
CREDIT: REUTERS/MOHAMED AL-SAYAGHI
(Reuters) – Yemen said on Friday it had regained full control of its Defence Ministry compound in Sanaa a day after a militant attack, claimed by an al Qaeda-affiliated group, killed 56 people, including foreign medical staff.
The Yemeni military's chief of the general staff said in a preliminary report submitted to President Abd-Rabbu Mansour Hadi on Friday that an estimated 12 attackers, mostly Saudi nationals, had taken part in the assault and were all killed.
The report, seen by Reuters, said gunmen wearing army uniforms opened fire at soldiers guarding one of the hospitals inside the military compound. An explosives-laden pickup truck was then blown up.
"The terrorists were estimated at 12 and most of them were Saudi nationals. The (investigation) committee is still working on acquiring more information about the terrorists and their goals," the report said.
Among the dead were medics from Germany, Vietnam, India and the Philippines, and 215 people were wounded, according to the latest government figures.