Islamization of Norway at a dizzying pace.
H/T: Fjordman
Abdur Rehman Khan (left), Ali Battakh (project in IRN) and leader Mohamed Bouras got this morning to swallow food in Ahus with a clear conscience. 

They are all satisfied with the taste, and that the hospital takes their Muslim patients seriously by offering halal food.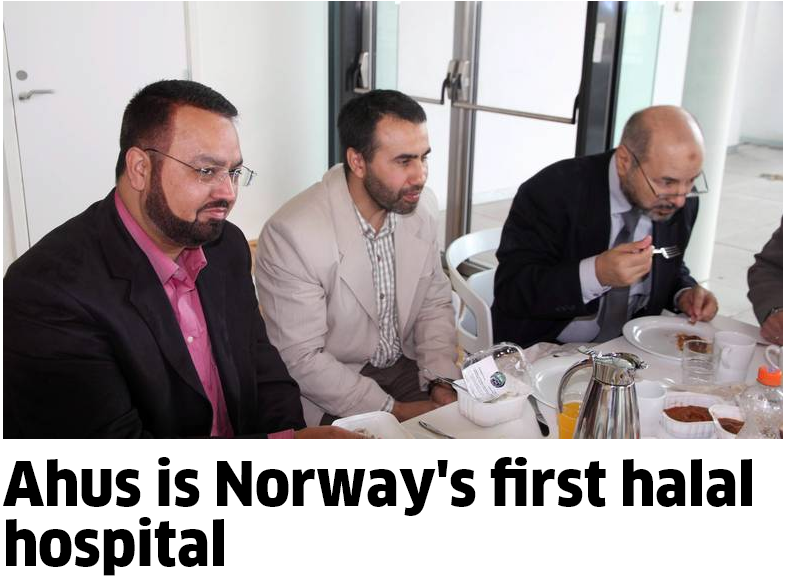 PHOTO: Wasim Riaz
When Abdur Rehman Khan was admitted to Ahus, he could only eat fish or vegetables. But from Monday to Muslim patients also get halal meat.
 Right now, my uncle is admitted here. He can only eat fish or vegetables. The alternative is that the family bring food from home, said Abdur Rehman Khan.
SV politician from Raelingen has been a patient in the hospital and are now using the range of Ahus. As a Muslim, he can not eat meat that is not slaughtered in the Muslim manner (see facts). Therefore, he had to settle for fish and vegetables during hospitalization.
Accepted
But now it's different. This morning the hospital and the Islamic Council of Norway (IRN) signed an agreement that ensures the serving of halal meat on Ahus. Thus, the hospital on Monday serves more halal meals for their Muslim patients.
The rights for the meat will come from Nortura, approved by IRN. The food is also marked with a visible logo from IRN. Ahus is the first hospital in the country with such approval. Food with halal labeling is intended for Muslim patients.
– It can be boring with fish and vegetables over several days. So it's good that we now have several halal dishes. It is reassuring that IRN has approved this, says Khan.
40,000 Muslims
– This tasted the lot. I was worried that the food is not spicy enough, but it was actually very good, smiles General of IRN, Mehtab Afsar, as he tastes lamb curry right after signing.