I have run into other Muslim miscreants in the UK who allegedly violated their staff. I had to remove the post due to the lawfare tactics coming from (literally) the House of Saud, but Blazing Cat Fur embedded it here.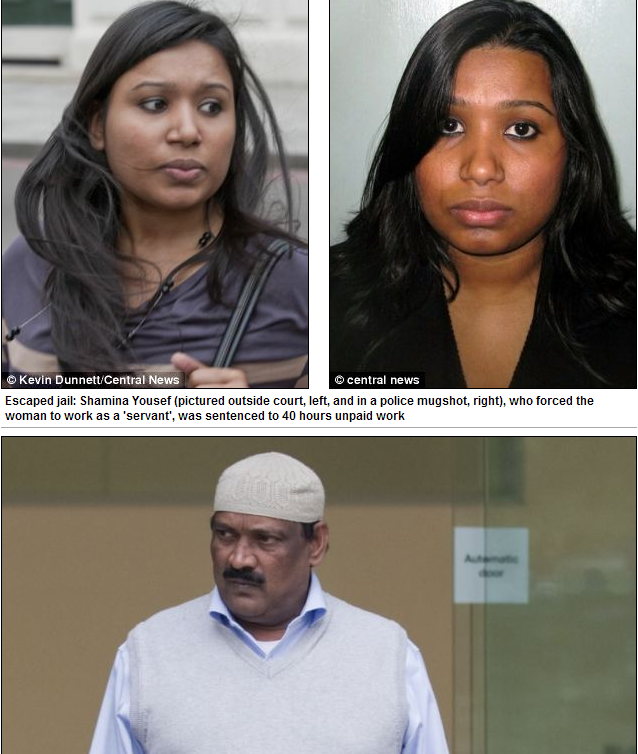 Indian woman, 39, forced into slavery by TWO WOMEN who made her work 16-hour days and paid her just £2,300 for four years of gruelling work
The woman was also raped by a butcher who made her sleep on his floor


Indian victim came to UK to work as nanny but was trapped by group

She was passed between the homes of three acquaintances

By ROSIE TAYLOR
PUBLISHED: 15:53 GMT, 16 May 2013 | UPDATED: 18:13 GMT, 16 May 2013
An Indian woman was forced into modern-day slavery by two women who locked her indoors and forced her to work 16-hour days.
The victim was also raped by the women's accomplice, 54-year-old butcher Enkarta Balapovi.
At a sentencing of three people today, the court heard he subjected the 39-year-old to four months of sexual abuse behind his wife's back while forcing his victim to sleep on the floor of his single room flat. 
He forced the woman to cook and clean for him, and threatened to burn her passport unless she stripped naked and performed sex acts.
When the married victim resisted his advances, Balapovi threatened to throw her on to the streets without any identity documents if she did not sleep with him. 
The illiterate woman had been lured to the UK with the promise of work as a nanny, hoping to earn money for her poverty-stricken family in India. 
But she found herself locked indoors and forced to work 16-hour days during a four-year ordeal at the hands of Balapovi and co-accused women Shamina Yousuf, a secretary, and optician Shashi Obhrai.

The mother-of-four was burned with an iron, threatened with hypodermic needles and had a knife held to her throat by Obhrai, 54, when she tried to escape. 
Her passport was seized by Yousuf, 33, as soon as she arrived, and the woman was passed between three families as a 'dogsbody', earning just £2,300 for year's of gruelling work.
Despite dubbing Obhrai as 'wicked', Judge Shani Barnes spared her a jail sentence because she is the primary carer for her terminally ill millionaire husband Balram Obhrai, 59.