Game on.
The freshman/statesman senator from Texas would wipe Biden all over the stage floor in any debate, the gun debate would be icing on the cake. Of course Biden would never debate him, just for that reason, and he knows Cruz wouldn't let him get a free pass with the snarks and the creepy Cheshire cat grin.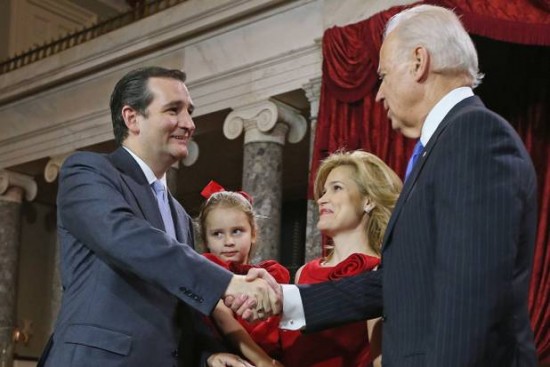 Ted Cruz challenges Joe Biden to debate about gun control
May 3, 2013 | 3:06 pm | Modified: May 3, 2013 at 3:25 pm
Sen. Ted Cruz, R-Texas, noting that Vice President Joe Biden reportedly plans to revive a legislative push for gun control,  challenged him to a debate about policy responses to gun violence.
"I would like to invite the vice president to engage in an hour-long conversation and debate, 'How do we stop crime'," Cruz said at the National Rifle Association Leadership Forum today. "If Vice President Biden really believes that the facts are on his side … then I would think he would welcome the opportunity to talk about the sources, the causes of violent crime, who is carrying it out, and how we can do everything humanly possible to stop it."