Revisionism continues and the media, political elite are lapping it up.
Today (29.4.2013) the National Coalition's seasoned politician, MP Pertti Salolainen, was on a Finnish state broadcaster YLE radio program, stating yet again, that his antisemitic statement uttered in a YLE TV morning program in November of last year 2012, and subsequently picked up by the Simon Wiesenthal Center and the Jerusalem Post, was misquoted.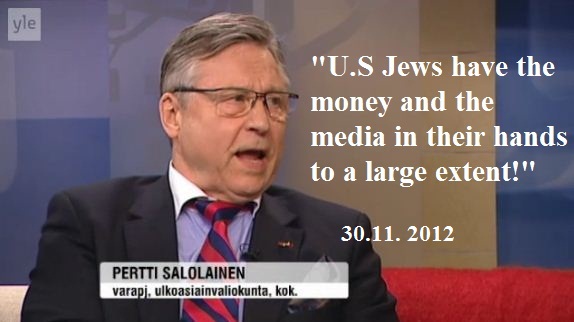 Speaking on YLE's Ykkösaamu (Morning1), (h/t: Vasarahammer) Salolainen insisted that his statement was disseminated around the world in a poorly formed quote, stating that:
"I said on the program that the United States has such an influential Jewish population, which has both the money and the media in their hands to a large extent."
This is once again an affirmation of the Tundra Tabloids original report that Pertti Salolainen, a top Finnish official in the government who currently holds the position of Vice Chairman of the Finnish Foreign Affairs Committee, did indeed say that US Jews have both the media and the money in their hands to a large extent. He's insisting that the words "quite a lot" were left out, and that is simply not the case.
Whether it was "quite a lot, "rather  a lot", "Significant control" or "to a large extent", the words and intent were accurately reported, he hasn't any wiggle room whatsoever. But the irony is that he's doubling down on it, insisting that the words he spoke were not included, though those words were exactly the reason why the SWC insisted that he be disciplined.
This shows the amount of disconnect that exists within the Finnish political system and  the media, concerning what constitutes classic antisemitism.
NOTE: A friend forwards the following observation:
The statement is antisemitic, but more importantly it implies that because Jews "control media and money" there can be no peace with or recognition of Palestine. In other words, not only do Jews control media, but their intentions are evil and sinister! Salolainen's statement alone is enough to label the man an antisemite, but the context is damning.