The Obama"open hand" policy that keeps on giving.
Sanctions are a joke. Hasn't anyone learned anything from the 1990's UN Oil-For-Food corruption scandal? Obama's foreign policy is a basket case of one failure after the other, and that was well known way before last year's election, nothing has changed since, except for getting worse.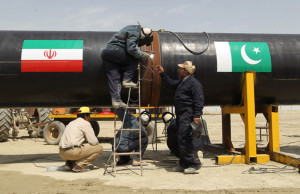 Pakistan Begins Construction Of Pipeline Link With Iran
Iran and Pakistan are moving closer to completion of a nearly 1,000-mile natural gas pipeline linking the two countries, despite U.S. objections that it could become a source of hard currency for Tehran in defiance of international sanctions.
Monday marks the beginning of construction on Pakistan's part of the pipeline, which will consist of a 485-mile run. Iran has already completed most of its 760 miles of the link, which will stretch from Assaluyeh along Iran's Persian Gulf coast to Nawabshah in Pakistan's Sindh province.
The pipeline is meant to help alleviate shortfalls in energy demand in Pakistan, where brownouts and blackouts occur daily.