Butchered more likely
Anytime you hear of either al-Qaida or the al-Qaida linked rebels, and yes even Syrian regime soldiers, "killing" each other, it has to be automatically assumed that any survivors of the battle were brutally murdered afterwards.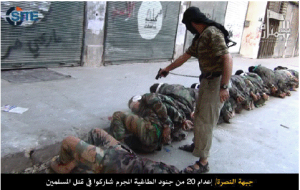 Al-Qaeda says it killed 48 Syrian soldiers in Iraq
Associated Press
Published: 03.11.13, 23:18 / Israel News
'Islamic State of Iraq' says its fighters monitored the movements of soldiers before launching attack 'from two directions using light and medium range weapons'
Al-Qaeda's branch in Iraq claimed responsibility on Monday for the killing last week of 48 Syrian soldiers and nine Iraqi guards in western Anbar province.
The brazen assault suggests possible coordination between the terror network's Iraq affiliate and its ideological allies in Syria who are fighting on the side of the rebels against President BasharAssad's regime.