Statist skulduggery, this is how they operate.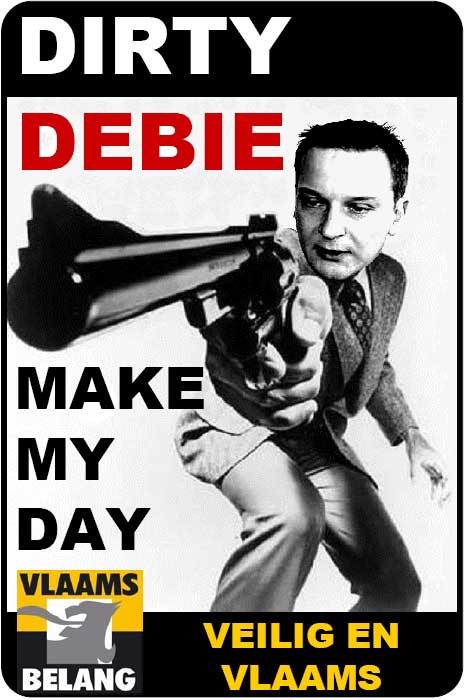 The mere thought of that should send shivers down the spine of any civil libertarian. How dare they. Dare they, they do. This is more than just about Bart Debie himself, (who by the way, helped the anti-Islamization movement rather well, I'm sure his handlers are pleased) this is about the government running operations against its legitimate political opposition, this is the dark underside of a tyrannical power.
NOTE: The EU was fashioned off of Belgian politics, that should also send shudders down your spine. Europe is the heart of statism, the thin veneer of democracy, mired deep in the bowls of hard fisted political skulduggery. H/T: Baron Bodissey
UPDATE: The ICLA sends its personal thanks to Debie for all his excellent help!
The International Civil Liberties Alliance (ICLA) held its first major event in the European Parliament on 18 October 2007.  We gained access to this important venue thanks to the sponsorship of Vlaams Belang, a political party that is well represented in both the European and Belgian parliaments.  The conference would not have been possible without the tireless efforts on the ground inBrussels of former commissioner ofAntwerp police Bart Debie.  His efforts were significant and indeed invaluable on both 18 October and on the second day of the conference that took place in the Flemish Parliament.

It was therefore with amusement that this morning we read in the Belgian Newspaper De Standaard that Bart was actually a mole within Vlaams Belang working for Belgian State Security in 2007.  We would like use the public revelation of this information as an opportunity to thank him for his work for our organization.

We coordinated closely with Debie for a few months prior to the conference and then again on the two days of the conference itself.  We developed an excellent working relationship with him, and those who worked with him found him practical, helpful, and entirely professional.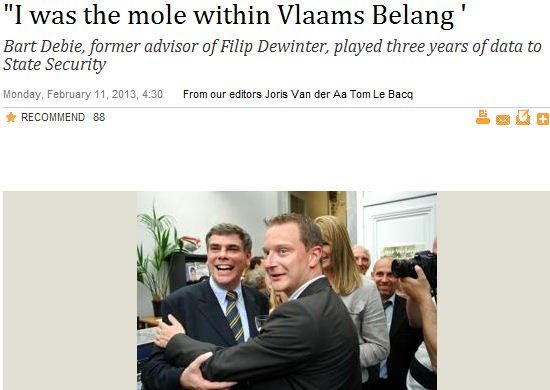 BRUSSELS – The Belgian State Security has for many years had a 'mole'in the top echelons of the Vlaams Belang, said Bart Debie, ex-police chief and former security adviser party boss Filip Dewinter. "I was for three years their informant."
"What they do with other politicians, I do not know. But the State Security Vlaams Belang years with lots of attention. And I should know, because I was personally involved. " Bart Debie (38) was originally planning his work as an informant for the State Security forever secret. But after the statements of Minister of Justice Annemie Turtelboom (Open VLD) last week that the State Security "is not involved in spying on MPs' he breaks through the silence. Turtelboom did her statements after two reports of the State were leaked. There were a whole series called politicians who were contacted by cults like Scientology. Turtelboom said the State Security does not keep records of MPs.
"Of Vlaams Belang in all respects," says Debie. "In 2007, they recruited me as an informant. To my resignation from the party in 2010, I have almost every month at least met with my regular accompanist at the intelligence. "
Debie was for many years a key figure in Vlaams Belang. He is a former commissioner of the Antwerp police who became famous for his tough approach to crime at the Falcon Square. But in 2003 he was in trouble after a violent interrogation of five Turkish prisoners. He was suspended, and later took resignation in 2007 was convicted of excessive force and falsification of PVs. Filip Dewinter provided a safety net: in 2004 he raised Debie as security adviser.
More here at the Standard.be (Dutch)