Feel good story of the week.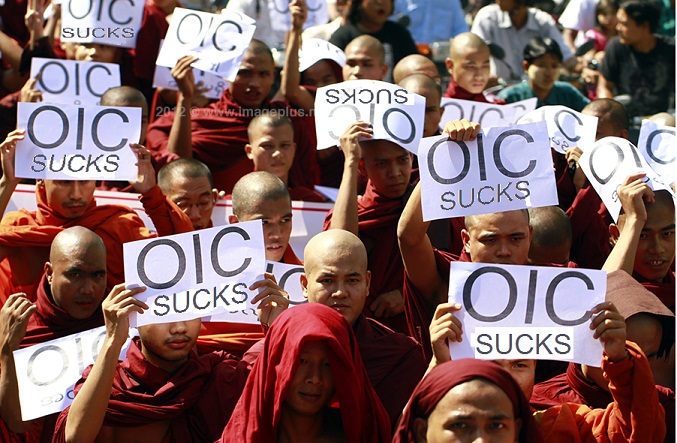 Failure Of Anti Free Speech OIC At Cairo Conference
By 
Aeneas
 • on February 11, 2013
Cairo – Location For The OIC Summit
The greatest threat to freedom in the world today, the Organization of Islamic Cooperation (OIC), met in Cairo last week.  Thankfully, from the point of view of those who value freedom and human rights, the conference was an unmitigated failure.
Apparently the summit was characterised more by squabbling rather than cooperation (1) (2).  Also is has been reported that the conference was attended by 27 OIC leaders (3) which appears a rather feeble effort given that there are 57 OIC member states (if you include the "State of Palestine") listed on the organization's website (4). Less than half the member ship for a major conference does not give the impression of healthy organization – was the meeting even quorate?  Outgoing Secretary General, Ekmeleddin İhsanoğlu, seemed to acknowledge the poor turnout based on what was published by Rohama (5) about his remarks:
"The Secretary General pointed out that the OIC has become an active partner in international fora and an important player on Islamic issues, stressing that the OIC'sactivities could progress more if it gets greater support from the Member States." (emphasis added)
The conference was opened by Western backed Egyptian tyrant Mohamed Morsi whose security forces recently beat up and publically stripped a man who was protesting against him (6).  AhramOnline reported that Morsi called for 'moderate version of Islam' (7) though did not elaborate on whether he and his party had now abandoned the principles of the founder of the Muslim Brotherhood Hassan al-Banna.  After all, al-Banna's 'version' of Islam could hardly be characterised as moderate.  However, it does give us a clue to his thinking later on in the article when it stated:
"Morsi also stressed the importance of promoting a "moderate version" of Islam in light of a rising tide of fanaticism in the region." (emphasis added)