You're either for them, or against them.
A Norwegian says enough is enough, time for pro-Israel supporters to stop apologizing and go on the offense. I whole heartily agree.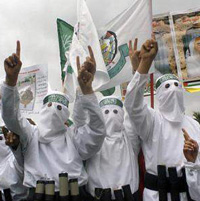 Who are the extremists?
Op-ed: Norwegian citizen says it's time to confront anti-Israel activists with some tough questions
Andreas Fagerbakke
Published: 01.02.13, 11:50 / Israel Opinion
People who are pro-Israel always have to defend their opinions and are usually on the defensive. Now it's time for us to stand up and turn the tables.
Why do we always have to defend our opinions? Why must we always be on the defensive? Those people who call us extremists and want to push us into a corner, these people are the real extremists, but they are always let easily off the hook. It's time to stop defending ourselves and start being on the offensive. Let's confront those people who call us extremists with the following questions:
Who are the extremists? Those who want the security barrier and all the checkpoints removed, which will lead to a wave of terror attacks against Israeli civilians, or those who want the barrier and checkpoints to remain in place?
Who are the extremists? Those want the naval blockade of Gaza to be lifted, which will give terrorists in Gaza more weapons and rockets (which will again lead to more war and suffering for both Israelis and Palestinians) or those who do not want the naval blockade to be lifted?
Who are the extremists? Those who want Judea and Samaria to be Jewish-free or those who want both Arabs and Jews to build and live in the area?