This is a story of great significance.
Tipster: Always Watching, who avidly follows the German media states the following in response to a TT inquiry, regarding the ensuing brouhaha surrounding Augstein and the media rallying behind him:
He uses his Spiegel bullypulpit to promote the dismantling of Israel and insulate Iran from criticism. It is a huge deal over here and the entire press, with the excpetion of one journalist, are supporting Augstein against the SWC and Broder. All parties are behind Augstein, including Merkel's CDU, have joined Augstein.
The same can be said about Finland's Pertti Salolainen, (a story that the TT broke in the Finnish/US media) who disparaged Jewish U.S. citizens over a month ago on state TV, saying that they pretty much control the money and the media in the U.S. The Finnish media and political parties rallied behind Salolainen, save for a few lone voices.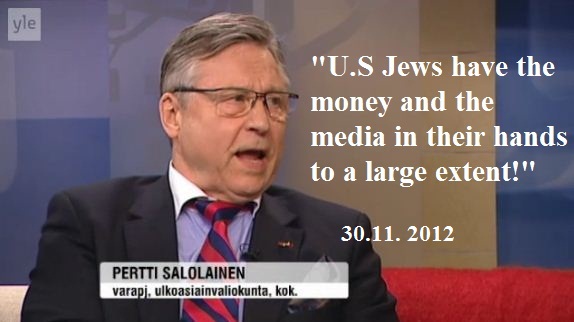 The support shown to both men (Augstein and Salolainen) has nothing to do with reality, and everything to do with the shielding of themselves from accurate criticism.
Uproar over 'anti-Semitic' Spiegel columnist
01/03/2013 23:13
Inclusion of Jakob Augstein in Wiesenthal Center's 2012 top-ten list of anti-Semites has sparked fierce debate in German media.
PHOTO: WIKIMEDIA COMMONS
BERLIN – The inclusion of a Spiegel online columnist in a 2012 top-ten list of anti-Semites has sparked a fierce debate in the German media since the beginning of the new year.
The Simon Wiesenthal Center ranked Jakob Augstein ninth for his written attacks on Jews and the State of Israel. He is a columnist for Spiegel online, owns a large stake in the Hamburg-based Der Spiegel magazine, and is owner of the left-wing weekly Der Freitag.
German mainstream media outlets from the Left to the Right rushed to defend Augstein against his critics, which include the popular Jewish author and Die Weltjournalist Henryk M. Broder.
Writing in the social democratic-leaning Rundschau, Christian Bommarius, a journalist not known for writing about Israel and Jews, said Broder engaged in "character assassination" regarding Augstein and colluded with the Wiesenthal Center to damage his reputation.
Broder told The Jerusalem Post on Wednesday that "Jew-hatred is the common denominator" among the journalistic and blogger defenders of Augstein. He paraphrased a sentence attributed to Kaiser Wilhelm II – "I know no more parties, I know only Germans!" – by saying, "I don't know any parties in Germany, I know only anti-Semites."