The new Pharaoh of Egypt……..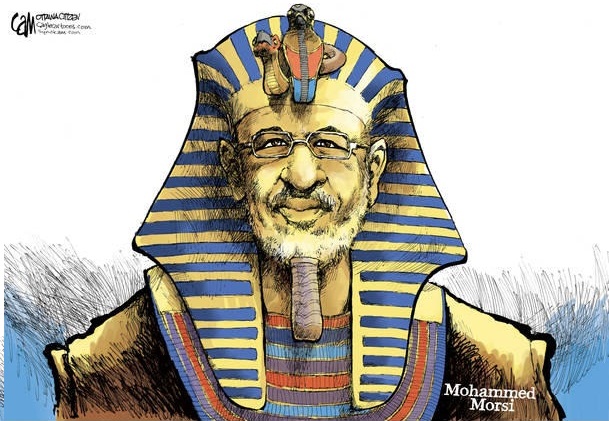 Here is a look at the main points of his decrees:
– All laws and decisions by the president are final, cannot be appealed, overturned or halted by the courts or other bodies. This applies to decisions he has made since taking office in June and any he makes until a new constitution is approved and a new parliament is elected, expected in the spring at the earliest.
– No judicial body can dissolve the upper house of parliament or the assembly writing the new constitution. Both are dominated by the Brotherhood and other Islamists and several cases demanding their disbanding were before the courts, which previously dissolved the lower house of parliament.
– The president can take any steps or measures necessary to prevent threats to "the revolution, the life of the nation or national unity and security" or to the functioning of state institutions.
– A new judiciary body of "protection of the revolution" is created to reopen investigations, prosecutions and trials of former regime officials, including ousted President Hosni Mubarak, for the killing of protesters during last year's uprising. Other police officers accused of killings, however, will not be retried.
– The controversial prosecutor general, a Mubarak appointee seen by many as lax in pursuing former regime figures, was removed from his post.
More here. Via Zip