I want it all, and I want it now!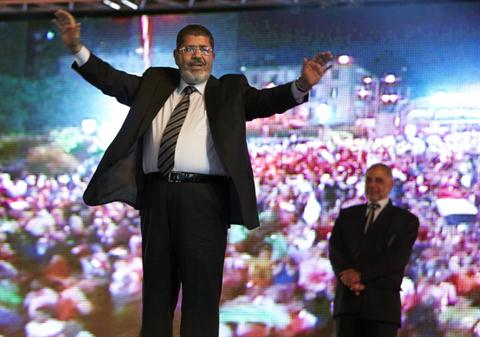 Protests rock Egypt after Morsi seizes new powers
By REUTERS11/23/2012 15:54
Demonstrators storm Brotherhood HQ in Alexandria, pelt Port Said office with stones, and call for Egyptian president's ouster in Cairo.
Protesters stormed the headquarters of the Muslim Brotherhood's party in Alexandria on Friday, throwing chairs and books into the street and setting them alight, after the Egyptian president granted himself sweeping new powers.
Supporters of Egyptian President Mohamed Morsi and opponents also threw stones at each other near a mosque in the city, Egypt's second largest, a witness said.
Two cars had glass smashed as the clashes moved away from the area.
In Port Said, another port on the Mediterranean, hundreds of protesters gathered outside the Brotherhood's Freedom and Justice party headquarters and pelted it with rocks. Some tried to storm it but did not enter, another witness said.
In Cairo, thousands demonstrated against the decree issued on Wednesday night.
Morsi called "pharaoh" for seizing new powers
Morsi's decree exempting all his decisions from legal challenge until a new parliament was elected caused fury amongst his opponents on Friday who accused him of being the new Hosni Mubarak and hijacking the revolution.
Morsi's aides said the decree was to speed up a protracted transition that has been hindered by legal obstacles but Morsi's rivals were quick to condemn him as a new autocratic pharaoh who wanted to impose his Islamist vision on Egypt.
"Morsi a 'temporary' dictator," was the headline in the independent daily Al-Masry Al-Youm and hundreds of protesters in Tahrir Square, the heart of the 2011 anti-Mubarak uprising, demanded Morsi quit, accusing him of launching a "coup".