The cordon sanitaire the lib movie, media industry and academy has placed upon pro-Israel documentary film makers, is obscene. The reason they do so, is to protect the finely crafted false meme they've invented over the past few decades, in which size dictates the justness of the cause.
Israel is perceived as the more powerful of the two, so the Palis get a clean slate and a free pass regardless of the many horrors they commit. These film societies like the Free Thinking Film Society in Ottawa Canada are incredibly important in getting the truth out, and are in need of your support.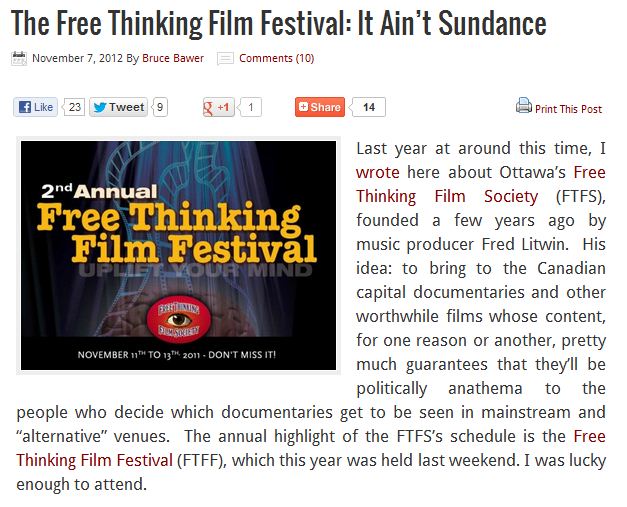 Among the films I saw was Israel Inside (2011). When the popular author and Harvard professor Tal Ben-Shahar returned to his native Israel after fourteen years, he found a country that "had not only joined the twenty-first century," but "was in many ways leading the way." Israel is second only to the Silicon Valley in IT start-ups. With only eight million people, it has more firms listed on the NASDAQ exchange than any country except for the U.S. (pop. 315 million) and China (1.34 billion).
Why this disproportionate success?  Ben-Shahar provides a convincing answer, listing six factors, or "actualizers." First, family: "Israel feels like a big, united family," which breeds interdependence and independence. Second, a knack for turning adversity into advantage. (Example: Israelis broil in the hot sun – but that hot sun also makes for great solar power, which they've used since the 1950s.) Third, chutzpah: "not taking no for an answer, challenging the status quo." Fourth, education: "no people," Israel's chief rabbi explains, "put education so much at the top of their priorities." Fifth, taking action: in Israel, "it's almost like there isn't a barrier between theory and practice." Sixth, tikkun olam, or "repairing the world" – meaning "striving to exemplify and promote goodness wherever we can."