Clueless boobs.
Even if that's the case (of which I'm very doubtful), this shows just how ignorant the mulitculturalists are, of the cultures they are inviting into the country. They open the doors wide without a clue as to what they are setting their people up for.
TS: Reason behind Immigrant rape may have to do with a different understanding of sexuality
Ilta-Lehti: According to specialist and therapist Pirkko Brusila, sex education can be a tool to root out immigrant sex crimes, says Turun Sanomat.
Police estimate that 
up to 10 000 rapes 
takes place every year in Finland. Of these, only a fraction comes to the attention of the police. (Colourbox / B & W PHOTOS)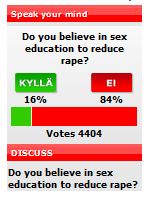 In a Service for Crime Victims  training session from a multi-cultural perspective, Brusila lectured that immigrant sexual crimes can be partly explained by the fact that what's behind the different religious cultures may be a different understanding of sexuality.
– The Muslim concept of sexuality may be wider than that of the Finnish host society's. For example, if a woman look into a man's eyes, shake his hands, or sits next to him it can be interpreted as being sexual, says Brusila.
Brusila admits however, that a broader concept of sexuality, of course, does not justify the sexual offenses.
Brusila says that sex education could be a way to root out sex offenses by foreigners, the cultural differences would become apparent.
Over the 2006-2009 period from 34 per cent of those convicted of rape is a foreigner. According to Statistics Finland, in particular young men from the Middle East appear in the statistics.
– It should also be borne in mind that even if immigrants are over-represented in rape statistics, violence is not imported by immigrants , says Brunila.
Only a fraction of crime is reported
Police estimate that up to 10 000 rapes takes place every year in Finland. Of these, only a small fraction are reported to the police. Often the cause of the failure to notify is from shame. Most of the rape victims are a related to the party, which are mostly the husband.
In particular, the shame associated with certain religions, which is thought to be the woman's fault for being raped. This is for example partly coming from Lutherans sect and Hindus.
– In Hinduism the victim is automatically considered guilty because the man is seduced by the woman.
In Muslim countries, rape is a crime, but its necessary to identify it with four witnesses. Similarly, marital rape occurring is not a crime in countries where Islam is the state religion.
– On the other hand marriage rape was criminalized in Finland only until 1994, says Brusila,