There are those complaining that the MEMRI translation wasn't correct, that " Oh destroy" the Jews, has been changed to "Oh Allah, deal with the Jews". It doesn't really matter, the intent is very clear, the destruction of Israel, with Morsi nodding and praying in approval. The video also has the imam saying:
'…Disperse them, rend them asunder. Oh Allah show your might and greatness upon them.'
 Last time I looked, asunder means "into separate parts; in or into pieces", or in other words destruction. You can't spin this any other way, Morsi was nodding and praying in approval of Israel's destruction with an imam and an entire congregation.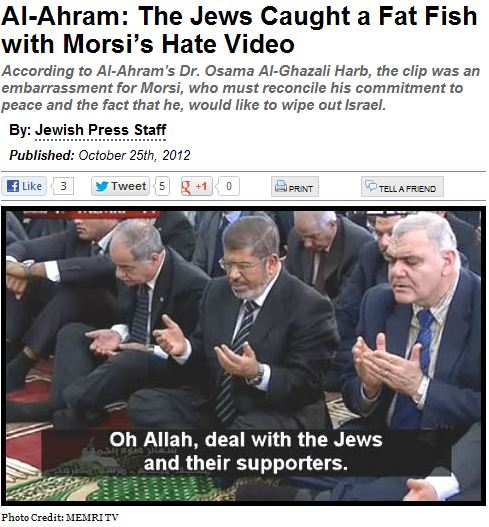 In his daily column, Al-Ahram's Dr. Osama Al-Ghazali Harb referred to aMEMRI TV clip showing Egyptian President Muhammad Morsi at a Friday prayers, October 19, nodding his head and answering "amen" as the preacher curses "the Jews." According to Harb, the clip was an embarrassment for Morsi, who must reconcile his commitment to the peace agreement with Israel and the fact that he, basically, would like to wipe out Israel. Watch the clip and read excerpts from the Harb article, published by MEMRI.
"Over the past two days, MEMRI 'caught' a fat fish, which it is now streaming worldwide via the Internet: a television clip of President Mursi during his last visit to [the northwestern city of] Marsa Matrouh. [Mursi is seen] sitting in the front row amongst the congregants of the Al-Tana'im Mosque, listening resignedly to a Friday sermon by Sheikh Futouh 'Abd Al-Nabi Mansour, head of the Islamic Endowment in Marsa Matrouh.

"As usual, Sheikh Mansour concludes his sermon, in the presence of President Mursi, of course, with the following supplication: 'Oh Allah, absolve us of our sins, strengthen us, and grant us victory over the infidels. Oh Allah, deal with the Jews and their supporters. Oh Allah, disperse them, rend them asunder. Oh Allah, demonstrate Your might and greatness upon them. Show us Your omnipotence, oh Lord.' Of course, Mursi nodded his head, mumbling 'amen' along with the congregants after each supplication [against the Jews].

"MEMRI is now streaming this scene on the Internet and distributing it around the world with audio and video, and with English subtitles. This is very embarrassing to the president. I do not know how the honorable president would respond if asked: 'Do you agree with what Sheikh Futouh said?' If he says no, it is a problem, and if he says yes, it is an even bigger problem. I believe that no one will ask the president this question, but the case and its implications will not go over well [with Western viewers], since this matter embodies the massive gap that still exists between the official contractual obligation for peace with Israel, and the popular objection to this [peace] agreement. As part of his official duty, the president must respect the agreement, as he has stated many times, but he also cannot disconnect from the prevailing popular mood. This is a complex problem that must be dealt with more wisely. Furthermore, it is important to be well prepared for such events."