Taken from the pages of the Swedish, English language 'The Local', (concerning the situation of Swedish pro-Hamas activists on the Estelle after the IDF intercepted it, and towed it to Ashdod) here is a comment that caught my eye.
The ridiculous left wing bourgeoisie never fail to amuse with their hare-brained ideals. Shouldn't these middle aged men be home assembling model ships instead of playing Pirates and Nobles on the high seas? Why doesn't Israel sort of torpedo them lightly?…[…]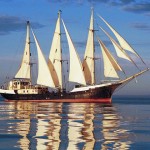 The 'Free Gaza Movement' is one big, massive epic fail. The average person who's not even slightly interested in the Arabs' conflict with Israel, couldn't care less about the pathetic morons trying to help arm the genocidal maniacs of Hamas.